Menü
Üyelik
---
Ziyaretçiler
01: 54.36.148 xxx
02: 54.210.12 xxx
03: 173.212.2 xxx
04: 54.36.148 xxx
05: 207.118.1 xxx
06: 54.36.149 xxx
07: 54.36.148 xxx
08: 107.172.2 xxx
09: 54.36.149 xxx
10: 52.3.246. xxx
11: 54.36.149 xxx
12: 54.36.148 xxx
13: 54.36.149 xxx
14: 54.36.148 xxx
15: 154.16.21 xxx
16: 54.36.148 xxx
17: 54.36.148 xxx
18: 54.36.148 xxx
19: 54.36.149 xxx
20: 54.36.149 xxx
21: 40.77.167 xxx
22: 54.36.148 xxx
23: 54.36.149 xxx
24: 178.154.2 xxx
25: 54.36.148 xxx
26: 54.36.148 xxx
27: 151.106.4 xxx
28: 54.36.148 xxx
29: 18.218.49 xxx
30: 54.36.149 xxx
31: 54.36.149 xxx
32: 54.36.149 xxx
33: 54.36.148 xxx
34: 54.36.149 xxx
35: 192.0.116 xxx
36: 54.36.148 xxx
37: 54.36.149 xxx
38: 54.36.149 xxx
39: 54.36.148 xxx
40: 54.36.148 xxx
41: 37.115.19 xxx
42: 54.36.148 xxx
43: 144.76.13 xxx
44: 54.36.149 xxx
45: 54.36.148 xxx
46: 141.8.142 xxx
47: 84.248.16 xxx
48: 54.36.148 xxx
49: 54.36.148 xxx
50: 54.36.148 xxx
51: 54.36.148 xxx
52: 178.159.3 xxx
53: 192.243.5 xxx
54: 54.36.148 xxx
55: 178.154.1 xxx
56: 54.36.148 xxx
57: 107.174.2 xxx
58: 54.36.148 xxx
59: 178.159.3 xxx
60: 194.187.1 xxx
61: 49.49.95. xxx
62: 185.77.40 xxx
63: 54.36.149 xxx
64: 172.245.1 xxx
65: 54.36.149 xxx
66: 176.33.24 xxx
67: 54.36.149 xxx
68: 178.155.4 xxx
69: 54.36.149 xxx
70: 54.36.148 xxx
71: 54.36.148 xxx
72: 54.156.86 xxx
73: 54.36.148 xxx
74: 54.36.148 xxx
75: 54.36.149 xxx
76: 54.36.148 xxx
77: 54.36.148 xxx
78: 54.36.148 xxx
79: 155.94.12 xxx
80: 54.36.148 xxx
81: 66.249.65 xxx
82: 54.36.149 xxx
83: 76.1.146. xxx
84: 54.36.148 xxx
85: 54.36.148 xxx
86: 54.36.148 xxx
87: 79.126.95 xxx
88: 54.36.148 xxx
89: 54.36.149 xxx
90: 54.36.148 xxx
91: 94.130.11 xxx

Album Reviews: EVIL BLOOD – MIDNIGHT IN SODOM (1989)
I've always been concerned with middle and eastern Europe's gloomy and mysterious myths. We cannot expect a different kind of music from a region whose literature and movies are hand in glove with occultism and satanism. Influenced mostly by bands like Motörhead, Venom, Exciter and Kill'em All era Metallica, Evil Blood was formed in 1982 before Crotia's departure from Yugoslavia and it's the first thrash metal of both Yugoslavia and today's Crotia. This demo, Midnight in Sodom, was recorded in 1984 but wasn't able to be released until 1989. Now we have a recording that is too extreme for its era especially in terms of lyrics.

Evil Blood takes its power from Venom and its darkness & evil sound from Mercyful Fate. Broadly, the sound is a combination of rough speed metal and primitive, evil thrash metal. The production is lo-fi, but it makes the record sound more diabolic. The vocals are not so powerful, the vocalist has not that power anyhow but he stresses just in time and has an demonic vocal style. The guitar sounds are creaking, shrill and you sometimes hear dark blues solos reminding Black Sabbath. Composition and melodies are really depressive, hellish and satanic. In brief, with its low production and gloomy atmosphere, this demo is a real cult.
Album Reviews: RUDIMENTARY PENI - DEATH CHURCH (1983)
Rudimentary Peni is one of the weirdest bands ever. You can't categorize them, it sounds like an anarcho-punk but it's not utterly. In spite of their political lyrics, it's more appropriate to label them as a deathrock band. Most of the lyrics in the album are about death, darkness, despair and suicide. And the cover art is Nick Blinko's own drawing.

There are influences of British punk, especially Crass but you can also smell an intense gothic atmosphere. There is not a single happy moment in this 21-song album; no hopeful lyrics, no cheerful melodies. The bass guitar was used as the leading instrument in most of the songs and they are so chaotic and gloomy. The rhythm is rarely changing, every song is played in depressing minor keys. The songs' lenght are 1.5 minutes in average. Blinko's vocals sounds like he's a man in a mental hospial. Actually, Nick Blinko was in there once. It probably influenced somberness of the album. This is one of the darkest, most desperate, disturbing records of all the punk history, and a true cult.
Album Reviews: THE VARUKERS - ANOTHER RELIGION, ANOTHER WAR (1984)
What you should expect from a d-beat/hardcore punk band is obvious. It offers you lots of aggressiveness, raw music, and the bitter truth with sometimes sarcastic, sometimes critical, sometimes angry attitude. In this case The Varukers is a real hardcore punk band, in fact a real legend. They tell that truth with critical manner in this record. They shout the reasons –the most efficient one is religion- and the consequences of war furiously. There are harsh, raw and pissed off punk vocals, filthy, primitive and fast guitars, d-beat punk drumming and hard bass lines. There are also influences of Motörhead and Discharge, especially on solos and drumms. It may be the most brutal and characteristic album of The Varukers. Actually, the title and the cover says it all. Religion is bullshit, it only brings shit.
Album Reviews: WEEKEND NACHOS - WORTHLESS (2011)
I wrote 3 or 4 different sentences to start writing about Weekend Nachos but I couldn't find anything proper, maybe because of the name haha. These guys are fucking mad! They progress on every record and Worthless is probably their masterpiece. Their style and sound is distinctive compared to most of the other powerviolence bands. You can hear influences of youth crew, death metal acts like Entombed, late-Carcass and sludge like Eyehategod besides of classic powerviolence and grindcore. And this album is a fascinating combination of all these genres. It sounds innovative yet old school.

Although there is an intense sludge influence, there are no longstanding songs except the 7-minute last track, "Future". The rest of the record is pounding with with a sledgehammer. The excessive rage of the album may make you punch someone you hate in the face. About the sound, the guitars have the thick sound of Entombed and Carcass while vocals and drums sound more grindcore-influenced. You can sometimes hear some rock'n'roll/punk solos like Motörhead and Discharge. The first song "Hometown Hero" is an exact example for this. My favourite song in the album is "Old Friend's Don't Mean Shit" owing to the lyrics and drilling fast music but the whole album is a favourite anyway. It is stimulating.
Album Reviews: SKITKIDS – BESÖKET VID KRUBBAN (2007)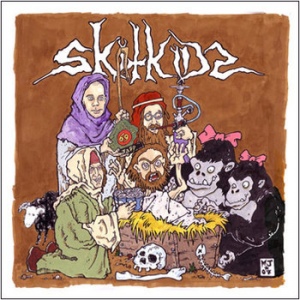 I guess the Marshal (Lemmy) tasted his Jack Daniels as daily, and he took his crew and said that "come on guys we're recording a Crust album!" however he included Poffen (Totalitar) for vocals, and they entered the studio suddenly. You can think what this guy tell us. But the extremely rock'n'roll/crust dose of Skitkids causes I think that. With the plenty of adrenalin and hatred, you'll be offered by a razor-sharp, fast, loud, funny record which is the combination of rock and roll, crustcore d-beat, thrash metal these guys performed. The vocals are reminiscent of Swedish hardcore legends Totalitar with old-styled angry screams and screeches. Great toned drum makes d-beat assault, it has powerful sound, the bass is groaning, melodic rock'n'roll leads and Fast Eddie-like guitar solos cause to lose yourself. The lyrics are based to socio-political issues with sarcastic expressions, the routine life of society, banal ideas, or criticize the punk stars of today. Classic Swedish D-Beat/Hardcore 's rock'n'roll excellence is in your blood with a high dose. Motorhead, AC DC structured rock'n'roll solos in "Weekday Suger Rov" (like listening to Ace Of Spades) is cool, and tracks such as "Viist E Jag Lycklig", "Svinahunden" bomb you with Totalitar d-beats. Skitkids makes noise for you, this is one of the best crust/rock 'n'roll records in recent years.
Gönderen:
Sodom
Tarih: 14.07.2014 Saat: 19:25
(
Read More...
| 1557 byte kaldı | Puan: 0)
Album Reviews: DISMA - TOWARDS THE MEGALITH (2011)
The infernal fog covered over the cemeteries. The ceremonies of blasphemy began and the unholy bodies prepare to revive and blow a cold kiss of hell. The place is the city of New Jersey where Misfits started to show the horror face of punk by the inspiration of zombies from the cemeteries of New Jersey, now Disma of the same region show the ancient death metal's punch and crawling that was inherited from the early 90s. First full-length is like taking breath the exhaust gas of the sevenfold lower of hell into your veins while your brain is being eaten by the graveworms cause of Disma's creepy low-tuned guitars, crusher and sweeper vocals, generally ominous sound that chokes your ears. You'll really be lost in the burial fog or, you'll really live the chaos apparition like they said. Of course, such a stuff shouldn't be surprise, because in the work of genius, Craig Pillard (ex-Incantation, Evoken) is there. The album completely changes between slower tempo and sometimes fast-paced destruction, it's unbelievably heavy and darkened, chaos dominates you in every sections. The riff oriented tracks have the damned chaos, the guitarists Venner and Kahan deliver the riffs of the deep hell in the name of darkest death metal, and Craig Pillard's profound growls depress you like a nightmare. Their variety approach in the songwriting perfectly complete all the madness.
Gönderen:
Sodom
Tarih: 14.07.2014 Saat: 19:21
(
Read More...
| 2988 byte kaldı | Puan: 0)
Album Reviews: SEA OF DEPRIVATION – CATHARSIS IN DISHARMONY (2000)
TOTAL HATE, TOTAL FURY!!! First of all, I won't write much about this record because if I do, Phil Hansford may come from hell and kill me. Yes, Sea of Deprivation is one of the most dangerous, angry and despiser bands ever. They were active from 1997 to 2000 and this is their only record. They played quite Dystopia-influenced crust/sluge/grindcore. Apart from Dystopia, there are influences of Carcass, Assück, Disrupt, ABC Diabolo and Nausea. While the song structures are changing between mid and fast tempo, brutal and screaming vocals are shared. There is a considerable sludge influence but I'd rather call it a grindcore record. The songs are full of hatred but you feel the suffering when you hear the screaming. The opening song "Hell Hath No Fury" is a furious song with crusty sludge riffs mostly going on mid-tempo. "Eco-Catastrophe", "Who's the Fucking Criminal", "The Cycle of Misery" are other outstanding songs of the album. My favourite is "You Fucking Jerk", a Dystopia-Disrupt-Carcass hybrid with brutal/scream vocals, Carcass-influenced guitar riffs, and beating blasts. The last song is "Domestic Prison", a Disrupt cover.

"NO, YOU'RE NO FRIEND OF MINE, JUST ANOTHER FUCK FACE I MUST DEAL WITH!!!"
Album Reviews: GRAVE RITUAL – EUPHORIC HYMNS FROM THE ALTAR OF DEATH (2010)
Grave Ritual is an Old School Death metal band formed in 2009 in USA and one of my favourites among the new Old School Death Metal bands. They were formerly known as Meathole Infection and released some demos with that name. As Grave Ritual, this is their first and lone LP. They play desecrating and unholy Death Metal in the vein of early Autopsy, Incantation, Grave, Asphyx and some Beherit. In some parts the music slows down and and down-tuned guitars creates a cemeterial atmosphere. The riffs are primitive and catchy while the vocals are growling and roarsing. There are also short but touchy solos. A great record.
Album Reviews: NIFELHEIM - DEVIL'S FORCE (1997)
Talking about the legendary devils of Sweden, you can think why they don't do any new record since the 2007's "Envoy Of Lucifer" but it's well-known of Nifelheim is not a productive band. They've active about 20 years and if we want to point the most important band in the name of black/speed metal after the 90s, this is Nifelheim of course. Released in 1997, "Devil's Force" is most powerful record of the band to me. In the way of speed/thrash/black metal their roots are based to 80's cult thrash metal era and black metal's pure blasphemy and hatred that was dedicated to satan so it's a blending unholy sound that was made in hell. We need to note that you know the album includes Dissection's Jon Nödtveidt (R.I.P.) and Jon Zwetsloot on guitars as the guests.
Gönderen:
Sodom
Tarih: 02.07.2014 Saat: 19:04
(
Read More...
| 2825 byte kaldı | Puan: 0)
Album Reviews: UNDERGANG – TIL DODEN AS SKILLER (2012)
From the unholy cemeteries of Kopenhag, this choking and frowzy necro death metal sound was created to uncover the horrific buzzings from the deepest hell and the cursed ceremonies of the living deads without giving no chance to any shitty sweet melodies and softcore assholes. With the leading of David Mikkelsen (aka Torturdöd) Undergang plays true old school death metal in the veins of bands such as Autopsy, Incantation, Grave, Bolt Thrower, Funebrarum and other creepy sounds you hoped. Their debut "Indhentet Af Doden" has already created evil spirited hallunications in my mind, so this crushing madness completed it now. This time they present more steamy sound that's based on buzzsaw guitar riffing, drumming of doomy beats, and brutality of deepest evil growls so with another definition they descend like a mass of damned fog. David Torturdöd is one of the hellish vocalists I've ever seen, so his grinding torment grunts and obscene screams are enough to embrace you from everywhere. Changing of tempos are great like fucking fast-paced parts to slowy doom atmosphere and sometimes there's possible to hear more diseased sounds behind the guitars. David's vomitting screams arrives the top of malignancy. Every riff dominates you separately so they don't give a fuck more complex music cause of their approach that's based on produce the devil's noises. This LP is 45-minutes feast of old school evil death metal, of course, the record's label was not a surprise case for us cause of being the label of graveyards Me Saco Un Ojo records. I recommend the following this band as a die-hard fan.
Gönderen:
Sodom
Tarih: 02.07.2014 Saat: 18:59
(
Read More...
| 1810 byte kaldı | Puan: 0)
42 Yazı (5 Sayfa, 10 yazı/sayfa)

[ 1 | 2 | 3 | 4 | 5 ]