Menü
Üyelik
---
Ziyaretçiler
01: 54.36.148 xxx
02: 54.210.12 xxx
03: 173.212.2 xxx
04: 54.36.148 xxx
05: 207.118.1 xxx
06: 54.36.149 xxx
07: 54.36.148 xxx
08: 107.172.2 xxx
09: 54.36.149 xxx
10: 52.3.246. xxx
11: 54.36.149 xxx
12: 54.36.148 xxx
13: 54.36.149 xxx
14: 54.36.148 xxx
15: 154.16.21 xxx
16: 54.36.148 xxx
17: 54.36.148 xxx
18: 54.36.148 xxx
19: 54.36.149 xxx
20: 54.36.149 xxx
21: 40.77.167 xxx
22: 54.36.148 xxx
23: 54.36.149 xxx
24: 178.154.2 xxx
25: 54.36.148 xxx
26: 54.36.148 xxx
27: 151.106.4 xxx
28: 54.36.148 xxx
29: 18.218.49 xxx
30: 54.36.149 xxx
31: 54.36.149 xxx
32: 54.36.149 xxx
33: 54.36.148 xxx
34: 54.36.149 xxx
35: 192.0.116 xxx
36: 54.36.148 xxx
37: 54.36.149 xxx
38: 54.36.149 xxx
39: 54.36.148 xxx
40: 54.36.148 xxx
41: 37.115.19 xxx
42: 54.36.148 xxx
43: 144.76.13 xxx
44: 54.36.149 xxx
45: 54.36.148 xxx
46: 141.8.142 xxx
47: 84.248.16 xxx
48: 54.36.148 xxx
49: 54.36.148 xxx
50: 54.36.148 xxx
51: 54.36.148 xxx
52: 178.159.3 xxx
53: 192.243.5 xxx
54: 54.36.148 xxx
55: 178.154.1 xxx
56: 54.36.148 xxx
57: 107.174.2 xxx
58: 54.36.148 xxx
59: 178.159.3 xxx
60: 194.187.1 xxx
61: 49.49.95. xxx
62: 185.77.40 xxx
63: 54.36.149 xxx
64: 172.245.1 xxx
65: 54.36.149 xxx
66: 176.33.24 xxx
67: 54.36.149 xxx
68: 178.155.4 xxx
69: 54.36.149 xxx
70: 54.36.148 xxx
71: 54.36.148 xxx
72: 54.156.86 xxx
73: 54.36.148 xxx
74: 54.36.148 xxx
75: 54.36.149 xxx
76: 54.36.148 xxx
77: 190.12.20 xxx
78: 54.36.148 xxx
79: 155.94.12 xxx
80: 54.36.148 xxx
81: 66.249.65 xxx
82: 54.36.149 xxx
83: 76.1.146. xxx
84: 54.36.148 xxx
85: 54.36.148 xxx
86: 54.36.148 xxx
87: 79.126.95 xxx
88: 54.36.148 xxx
89: 54.36.149 xxx
90: 54.36.148 xxx
91: 94.130.11 xxx

Album Reviews: INTERMENT - INTO THE CRYPTS OF BLASPHEMY (2010)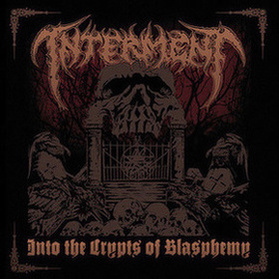 Gathering of the members who play in bands such as Demonical, Centinex, Regurgitate could have been this kind of sledgehammer Swedish death metal. Completely dark, morbid and hearing sound which erode the evil, Interment appeared with first full-length "Into The Crypts Of Blasphemy". In fact, it's not surprising the band's loyal to the roots of the Swedish death metal in a different perspective, because they were "Beyond" in 1988. Bastard Priest, Miasmal and many others continue to create an earthquake in the underground scene with their cold, and dark hellish sounds in the north of Europe, they have been joined by Interment.

From the beginning to the end tracks include buzzing of the guitar tones, based on the deadly chaotic and destructive structured parts, sinister manner of vocals, fierce attacks of drums, simple but attractive tremolo riffs will absorb your brain i encourage you to witness this superb record of Interment. Taking us to early 90s, it provides to inhale the air of Entombed, Grave, Carnage, Dismember did at the time. Where these guys have been for 22 years? I don't know. Though not their first record, only the first full-length.
Gönderen:
Sodom
Tarih: 02.07.2014 Saat: 18:54
(
Read More...
| 3150 byte kaldı | Puan: 0)
Album Reviews: INFERNÖ - DOWNTOWN HADES (1997)
Some posers who always think the Norway is only consisting of black metal scene however they also think it's cool completely then I advice them jumping from a brigde they firstly saw. From the past till today the kicking ass bands of Norway such as Nocturnal Breed, Infernö, Desekrator, Aura Noir and Deathhammer has done unholy and speeding up alcoholic thrash/black uproar enough to cause you want to drink some beer with satan on the same table, in fact the Norwegian thrash scene can't never be forgotten. Fastest thrash metal with light-speed riffs were combined with the style's usual dirty drunk vocals, I wonder how many bottles he drank before the recording. Their attitude is also some of punky, especially the vocals and the influences can be pointed as Tankard, Slayer, DRI, Exciter, Razor and some others. When the retro-thrash was out of nowhere yet, Infernö and a few bands were already playing that.

"Downtown Hades" is more mature than previous record as musically although they play with unconcerned approach. Your brain will be fuckin' crazy track by track with insanely fast tempo, amazing guitar work that is oriented on speed, screaming guitar solos and the ripper screams of vocalist. Energetic structure of the album creates more party mood to enjoy, however the names of the first trio are so interesting ("Straight From Hell", "Utter Hell", "Rot In Hell") and generally primitive that is available for such a band of madness ike Infernö. I think the band can not enter the studio to drink for 14 years so they can't record a new album which we waited.
Gönderen:
Sodom
Tarih: 01.07.2014 Saat: 19:14
(
Read More...
| 1782 byte kaldı | Puan: 0)
Album Reviews: DEMENTOR - KILL THE THOUGHT ON CHRIST (1997)
The first death metal bands you listened in the age of constent could be Obituary, Death, Deicide, Cannibal Corpse or something like these. But when I did not know these major acts I heard these guys, and one of the first anti-religious albums of I was faced in my life so even the satanic intro which includes morbid baby, woman cryings and screams was enough to terrify me. Formed in 1988, this is old school death metal band from Slovakia, I guess Dementor is most important act in the genre of this country. The band plays typical 90's brutal death metal with their satanic imagery and anti-christ lyrics. It's possible to hear many memorable solid riffs, catchy structure in the riffing often is best remarkable side of the album in my opinion, it's really variety. Drumming is also awesome, Jozef Piros did a very good performance in entire album. His metronome is very solid, and another great thing is about the trigger that was not used on drums. Doomy parts if you want to hear, you will be also satisfied in this direction. As I knew they were influenced from Venom, Slayer, Possessed, Kreator, Celtic Frost in the early times as it should be. "Kill The Thought On Christ" is definitely one of the best products of blasphemic death metal in the 90s, i believe people who like Sinister, Immolation etc. they easily like Dementor.
Gönderen:
Sodom
Tarih: 01.07.2014 Saat: 19:11
(
Read More...
| 1542 byte kaldı | Puan: 0)
Album Reviews: MORBOSIDAD – PROFANA LA CRUZ DEL NAZARENO (2008)
Morboso metal rulez! With evil, blasphemic and unholy violation of the rules meets the music these Californian and Mexican satanic mentally ill guys of primitive black-death metal under the name Morbosidad they reveal records like sledgehammer. One of the bands who carries the second-wave of old school black metal flag after the masters such as Von, Sarcofago, Beherit and Blasphemy, they vomit ruthless hate with brutal blasphemic black/death metal attack in maximum adrenaline. Likewise Beherit this time they reflected more cult Brazilian death/black metal influences of Sarcofago, Sextrash worship, so a Sarcofago classic "Deathrash" cover is between the tracks in album they performed.

Under the leadership of Tomas Stench the album was recorded with new members in Mexico, like the previous studio albums this has also 13 tracks, and not reach the time of 3 minutes.. Are not foreign to Spanish lyrics, cover art is the presence of Chris Moyen who has the concept of disease combined with Morbosidad ideology; shows jesus christ is being crushed by the foots of the emperor of satanic army was imaged intensely. Even see the cover of the music to tell the terrible fate-sufficient. Primitive brutality, aggression and ruled by their very nature they do worship satan just like forefather bands to dedicate themselves to live the atmosphere of inevitable hell!

Barbaric riffs, drums of beating rhythms and evil vocals of strangling to unending dark delivers extremely filthy and that sentiment comes from the depths of hell the record has well-structured guitar solos are perfect to keep you, the head breaks anymore... Some stand out in some of the typical evil thrash riffs from Blasphemy we know that deep buzzing guitars, and the confusion of war to experience the pleasure of the atmosphere, Stench s growlings, death metal roarings insisted a balance between chaos, hatred spreads.
Gönderen:
Sodom
Tarih: 01.07.2014 Saat: 18:55
(
Read More...
| 4061 byte kaldı | Puan: 0)
Album Reviews: BLACK WITCHERY – INFERNO OF SACRED DESTRUCTION (2010)
Devil's spirit in the black magicians, just like the name of their new record the inferno of a sacred destruction came back after five years. As one of the "most black metal" albums of latest years, Impurath and his crew dominated to throne by satan has granted them with 20-odd minutes record which they rained the bullets to heads like a mitralioz and on the other hand crushed the listener like a tank. Recently, they gave most important show to lucky viewers of this year who saw them together with excellent line-up such as Blasphemy, Mystifier, Order From Chaos, Blasphemophagher, Proclamation in NWW, now with that record they presented the hell cellar ambience with a better production over the expected standard. The result is a true raw black/death metal barbarism in the list of best flag-bearers bands of this genre, so they more solidified their place at the top.

Beginning with direct offensives from the first second until last second cause of relentless continue like under vapor pressure of sulfuric acid I don't even need to mention the tempo at all. Look at the guitar riffs the higher capacity they've gained can not be denied. Especially with the name of the album the destructive track named "Inferno Of Sacred Destruction" is one of the my main favourites in album by riffs to imprint listener's mind. As well as scorching riffs, the missile sound effects add a great acceleration to "Kingdom Against Kingdom".
Gönderen:
Sodom
Tarih: 01.07.2014 Saat: 18:52
(
Read More...
| 2302 byte kaldı | Puan: 0)
Album Reviews: ABOMINATOR – THE ETERNAL CONFLAGRATION (2006)
I'm not sure about Melbourne how is it, but I'm sure the underground crew of demonic spirited has an hegemonia over there. Not even touched the door of the churches, Australian guys of underground metal scene were baptized by the devil, I guess. Bestial Warlust, Hobbs Angel of Death, Destroyer 666, Gospel Of The Horns, Sadistik Exekution or Destruktor, Trench Hell, Nocturnal Graves etc.. etc.. stand as a productive result of this extreme metal fabrication and especially this city has hidden magic.

One of the oldest bands in Australia, this band is loyal to the roots of war metal but they haven't made any record at last 5 years. When you listened this latest record "The Eternal Conflagration" you can be angry and you can shout "what the hell is it?, where are these guys, please make a new record.." You will be kept by the atmosphere of old-school thrash/black/death metal in the vein of Angelcorpse, Morbid Angel this is unique example of the chaos you want to taste. Sharp speed metal-based black /death metal riffs, razor-like solos and blasts, the album has strong complexity in the rhythms, the tracks are totally based on the way of fast tempo going. Abominator is actually more primitive and more black metal band when they were compared with Angelcorpse, this is a known fact.

Hate shelling which lasted 42-minute, this band kills! Vocalist's style is so similar to Angelcorpse, killer riffs dominate the album, "Desecrator of the sanctuary" has most black metal moments, "Hellfire armada" begins with gun shots and the short and sharp solo is enormous. "Sarcarium tormentum" opened with the sounds of the bell, it's another destructive track. But the drums could have been a little better. It's a big wrong to disobey this album.
Gönderen:
Sodom
Tarih: 01.07.2014 Saat: 18:49
(
Read More...
| 1978 byte kaldı | Puan: 0)
Album Reviews: HERESIARCH - OBSECRATING THE GLOBAL HOLOCAUST (2011)
When I first heard I was saying maybe they're the members of Diocletian or not, I haven't any information about it, but later I learnt Diocletian and Witchrist members formed this band. But vocalist and basist have nothing to do with these bands. Fortunately, in the end these nuclear howling sound is coming from the territory of New Zealand. Heresiarch which was founded in 2008, they released their first demo named "Obsecrating the Global Holocaust" through Satanic Skinhead Propaganda in early April. And the resulting carnage has been the officially sounds from the pits of hell. One of the tracks is the cover of Bathory's "Equipmanthorn" this demo includes three violent, deep and damned tracks of black/death metal magnificence. Heresiarch squeezed all the sadism desires in 13 minutes. Puffing out steam guitars combine with sickly screams and grumbling echoed vocals of a hellish caveman so it's ready to pierce the membranes of your ear. After a while you can probably be held and you can live some tribes. Following this tape that was printed 200 copies, at the end of the year an EP and a split with Nyogthaeblisz will also be released. Hmm reference bands? Briefly we can say Blasphemy, Beherit or let us say Diocletian worship. The title track "Obsecrating the Global Holocaust" is first extermination anthem in war metal standars. I liked screams too much. As for the "Man Is Carnivore" and it's also slowed down towards the end creates a crazy apocalyptic ambience. Listening to Bathory cover in this chaos disguised and more deeper hellish form is interesting. The next record can probably spread more threat, because they already proved how Heresiarch is a merciless band with this debut demo.
Gönderen:
Sodom
Tarih: 01.07.2014 Saat: 18:45
(
Read More...
| 1922 byte kaldı | Puan: 0)
Album Reviews: MORBOSIDAD & SADOMATOR - RITES OF DESECRATION (2011)
Total of 9 minutes. In fact, even if does not reach 9 minutes. Morbosidad hailed us with the latest split with Chilean Perversor and Sadomator raised the bar with their latest lunacy "Goatsblood Panspermia" of 2010, now two bands DECLARE WAR together! I guess both bands gave the tracks recorded in hell, invested with the seven-fold flamed riffs, hellhounds were brought to vocal duties, so this is the top of RAW NOISE TERROR we witnessed. Time to live Morbosidad''s ultra fuzzy guitars, screams, roaring vocals are insanely primitive factors those are deafening the ears, Sadomator's muffled riffs together with echoing vocals to be buried into the depths of hell. The two bands almost reached the last point in the treble. Second Sadomator track named "Fossilized Penis Insinuation" is more better as recording, and it's based to more slower-paced sections those are reflecting the doomy ambience.
Gönderen:
Sodom
Tarih: 01.07.2014 Saat: 18:43
(
Read More...
| 1117 byte kaldı | Puan: 0)
Album Reviews: SPEARHEAD - THEOMACHIA (2011)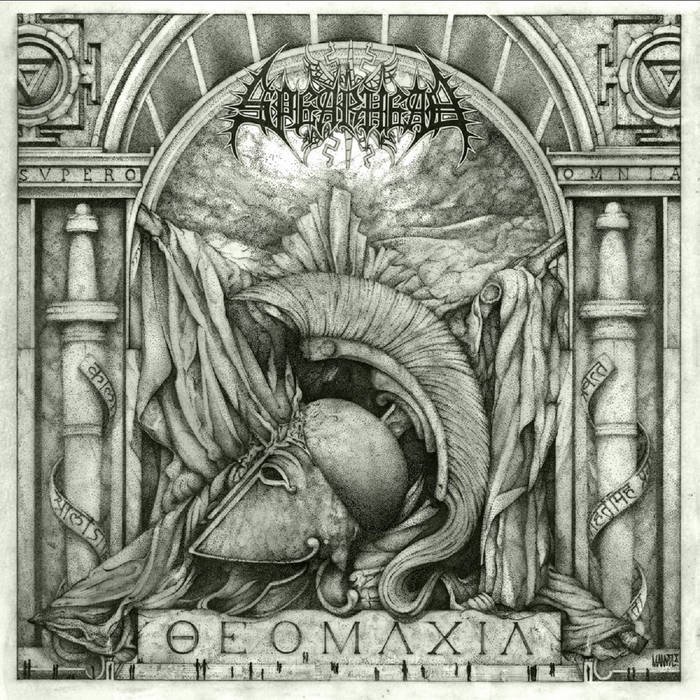 There are some bands although that are not new, and put some products to announce their name enough you can not know anything about them. Here I learnt Spearhead at this point so I surprised how I haven't been any idea about this band until now. When I first heard the name, I didn't think such a kick-ass band who mixes Death-Black-Thrash metal too deadly. As a result, you should not be deceived about the band names.

Looking at the previous two albums before the band increased their point of 5 to 10 and it seems to have reached into the summit. People who wants to live North America-Poland ambience of Angelcorpse, Conqueror, Vader, classic Morbid Angel era they can be easily kept in totally 11 tracks have made the diseased spirit. Listening to one of the most killer albums of 2011, "Theomachia" has already entered into this list, and even cruelty, war, attack, darkness, overbearance, along with all of the factors you live the giving a breath of hell.
Gönderen:
Sodom
Tarih: 30.06.2014 Saat: 18:05
(
Read More...
| 2371 byte kaldı | Puan: 0)
Album Reviews: IMPURE WORSHIP - GOATHORNS (2010)
At the time we used to know some cool bands of Greek scene (such as Flames, Septic Flesh, Acid Death, Sadistic Noise and included early years of Rotting Christ etc.), when Greece was said the scene had only some bands for us. In the recent years, like many countries (unfortunately not Turkey) Greek scene has also an incredible rising, this cool potential is seen clearly. Dead Congregation, Embrace Of Thorns, Necrovorous, Crucifier, Merciless Crucifixion, Slaughtered Priest, Goatvomit, and the war noise of Impure Worship we have the honor to meet, so these bands created "Underground Greek Hell" scene we can define it.

Formed in 2009, Impure Worship hit underground scene like fuckin bomb in the latest days of 2010 when released their first demo tape named "Goathorns". This demo proves how the band will mark its sign in the future. In the way of black/death metal masters such as Sarcofago, Blasphemy, Beherit, Archgoat, there's four nuclear war metal tracks also including a cover of Impaled Nazarene's "False Jehovah" to be stifling, spreading the poisonous clouds of war, the nerve-gas emitting, starting the nuclear war and hate against the all fucked beliefs, religions.

Mercilessly beating war metal blasts, muddy guitar tunes and devil worship, echoed brutal black-death metal growlings and screams, each of these elements are the reasons to bury your brain into the cellars of hell. One of the interesting and unholy moments in the demo are the sounds of orthodox rites with doomy-dark guitar parts in the beginning and ending of first track named "Rites Of Perversion" is the favourite of me. A bumpy track named "In Nomine Satanas" has a slow start by an heavy riff is the reminiscent of Beherit, then an ultra-fast tempo commands with mortal blasts, and ferocious riffs, a reason to wear gas masks. "Goathorns" is also similar with slow and fast tempo changes, now the bestial war metal to feel in the peaks. Especially, guitar sounds like missile in the 40th seconds are well-done. The cover of "False Jehovah" was performed with average effort, never bad, not excellent.
Gönderen:
Sodom
Tarih: 30.06.2014 Saat: 17:59
(
Read More...
| 2528 byte kaldı | Puan: 0)
42 Yazı (5 Sayfa, 10 yazı/sayfa)

[ 1 | 2 | 3 | 4 | 5 ]