Menü
Üyelik
---
Ziyaretçiler
01: 54.36.149 xxx
02: 54.36.149 xxx
03: 196.245.2 xxx
04: 54.36.148 xxx
05: 54.36.148 xxx
06: 54.36.148 xxx
07: 207.46.13 xxx
08: 54.36.149 xxx
09: 54.36.148 xxx
10: 54.36.148 xxx
11: 207.46.13 xxx
12: 54.36.149 xxx
13: 54.36.148 xxx
14: 66.249.64 xxx
15: 54.36.148 xxx
16: 54.36.149 xxx
17: 54.36.149 xxx
18: 178.159.3 xxx
19: 54.36.148 xxx
20: 54.36.148 xxx
21: 54.36.148 xxx
22: 54.36.148 xxx
23: 54.36.149 xxx
24: 104.227.1 xxx
25: 54.36.148 xxx
26: 54.36.148 xxx
27: 54.36.148 xxx
28: 54.36.148 xxx
29: 54.36.149 xxx
30: 216.244.6 xxx
31: 54.36.148 xxx
32: 54.36.148 xxx
33: 54.36.149 xxx
34: 54.36.148 xxx
35: 66.249.70 xxx
36: 54.36.148 xxx
37: 185.104.2 xxx
38: 54.36.148 xxx
39: 54.36.148 xxx
40: 36.57.176 xxx
41: 54.36.149 xxx
42: 54.36.149 xxx
43: 54.36.148 xxx
44: 54.36.148 xxx
45: 54.36.148 xxx
46: 54.36.148 xxx
47: 54.36.148 xxx
48: 54.36.149 xxx
49: 165.231.1 xxx
50: 66.249.66 xxx
51: 54.36.148 xxx
52: 54.36.148 xxx
53: 54.36.148 xxx
54: 54.36.148 xxx
55: 54.36.149 xxx
56: 66.249.66 xxx
57: 54.36.149 xxx
58: 54.36.149 xxx
59: 14.165.19 xxx
60: 54.36.148 xxx
61: 54.36.148 xxx
62: 66.249.66 xxx
63: 66.249.70 xxx
64: 54.36.148 xxx
65: 54.36.148 xxx
66: 178.154.2 xxx
67: 54.36.149 xxx
68: 54.162.12 xxx
69: 45.77.218 xxx
70: 54.36.148 xxx
71: 54.36.148 xxx
72: 54.36.148 xxx
73: 54.36.148 xxx
74: 54.36.148 xxx
75: 46.191.24 xxx
76: 54.36.149 xxx
77: 54.36.148 xxx
78: 54.36.148 xxx
79: 54.36.148 xxx
80: 54.36.148 xxx
81: 54.36.149 xxx
82: 42.115.15 xxx
83: 54.36.148 xxx
84: 54.36.148 xxx
85: 54.36.148 xxx
86: 54.36.148 xxx
87: 54.36.149 xxx
88: 54.36.149 xxx
89: 54.36.148 xxx
90: 54.36.148 xxx
91: 192.3.183 xxx
92: 54.36.149 xxx
93: 54.36.148 xxx
94: 115.73.14 xxx
95: 54.36.149 xxx
96: 46.161.9. xxx
97: 54.36.149 xxx
98: 54.36.148 xxx
99: 54.36.149 xxx
100: 54.36.149 xxx
101: 54.36.148 xxx
102: 54.36.148 xxx
103: 54.36.148 xxx
104: 190.122.2 xxx
105: 54.36.148 xxx
106: 54.36.148 xxx
107: 54.36.148 xxx
108: 54.36.149 xxx
109: 199.116.1 xxx
110: 199.59.15 xxx

It's possible to compare a lot of death metal bands with each other but you can't do it for Incantation (and some others of course) i guess because their masterpieces create distinctivity on every record, and they go in the way they've fixed many years ago, so the result presents the continuous rise for them year by year. "Diabolical Conquest" is one of their masterpieces which is enough the tell what Incantation is and how satanic death metal should be! The line-up includes Daniel Corchado on vocals, bass and guitar, Kyle Severn on drums and John McEntee on guitars. Kyle Severn beated for various important unholy death metal bands such as Vital Remains and Acheron but honestly Acheron is not in the area of my interest.

First of all, I respect John McEntee's guitar playing which is far away from melodic bullshit so each and every riff in the album kills and kicks you ranging between doom, black and death metal and the guitar sound is based on black metal a bit. Seems they didn't prefer to concentrate for the guitar solos, but catchy riffs on each track resolves the lack of it and provides saturation. Drumming delivers great variation, skillful playing proves and shows Kyle's talent and his ultra-fast blasting commands in every assault, especially various attractions to follow the guitars deserve praising.

Corchado delivers evil, deep and unholy atmosphere to the music with the powerful and guttural vocals. Additionally, the lyrics are the impious ideas of John McEntee who wrote to desecrate all the divinities. Doomy riffs cause to feel yourself under the foggy graveyards while the technique intelligence dominates the structure of all tracks very well!!!

"Diabolic Conquest" is a masterpiece that comes from the depths of hell and vomit the hate against all the beliefs of fucking mankind!!!
Time to mention about a war-cult band that's unknown when it's compared with Sarcofago, and Sepultura from legendary Brazilian death/thrash metal era. Possible to think Sarcofago is the only reference to show the nasty, devilish scene of Belo-Horizonte but Holocausto had the first marks of nuclear war metal destruction at the time. Their real masterpiece is 1987's debut "Campo De Exterminio" offers one of the first examples primitive, raw as fuck and fuzzy devastation of black-death metal brutality, if you want to call as "bestial metal". Although the Nazi rumors for the first periods, i'd like to indicate they haven't followed this way. Unprecedented 10 tracks about 33 minutes crush like a destructive tank without mercy. Portuguese lyrics reflect the points about war, a bit political and religious issues with satanic themes. Most of the current Brazilian thrash metal bands always cloned the things that are but the old Brazilian scene has a unique and distinctive sound so "Campo De Exterminio" is one of them. Guitar sound is fuzzy but the tone provides attractive ambience and the sound evaporates though the simple riffing structure. Thrashing riffs meets with some killer death metal riffs. The drumming reminds Sepultura's "Bestial Devastation" a bit. Punk-influenced riffs appear in the tracks such as "Vietna" so their next releases would go in the way of punk-thrash metal. "Forças Terroristas" is my favourite track which does total holocaust without compromising!

The only bad side of this album is a the weakness of production because it would reach a cult status with a better quality (non-fuzz guitar, better drum tone). But the album still desecrate all the holiness and inject the blood of primitive and bestial devil-worshipping into the veins. Holocaustic thrash-death metal barbarism!!! Ancient South American classic!
The unholy anthems from the deepest graveyards of hell will continue to haunt you, because Grave Miasma released first full-length depravity under the name "Odori Sepulcrorum". Each record of the band jumps a serious level by offering ominous black metal influenced death metal so i think this release was also recorded in dark cellars under a musty-smelling production and the dark foggy atmosphere will be upon your body. However they're one of the old school death metal bands in new generation which has very different position, these guys like to create unusual death metal darkness. Incredible catchy and funeral parts in the guitars cause to feel very unhappy, for example you'll be ruined with the slow parts of "Seven Coils" or "Odoratus Sepulcrorum". Deep growlings of the vocalist fit with the catchiness of the riffs very well and allows to creep as you cannot wake up from the nightmare. In "Odoratus Sepulcrorum", when the part between 6.42 - 7.00 came, i couldn't resist it anymore and I kneeled down. First track "Death's Meditative Trance" destroyed me with creepy guitar riffs and magnificent fast-paced part that was supported by blast raining. 2.49 is like an apocalypse break, taste the despair and grimmy going in order. Fukkin excellent opening track!!! I can't really decide how i explain about the riff perfections. There's the feast of the malignities in the guitar sound that drill my ears in every track. Solid drumming also adds a different sinister force to the album sound and it pounds ruthlessly.
Midnight's formula is quite simple: Motörhead's rock'n'roll, Venom's satanism, Hellhammer's darkness and d-beat/hardcore punk tempos. It sounds like another Dis-clone band but they are a black/speed metal band rather than a crust band. They are "rotten" and they anyhow define themselves "unholy and rotten". On their full-lenght Satanic Royalty, released in 2011, Midnight has a more heavy/speed/thrash sound similar to King Diamond or Mercyful Fate in addition to the influences above. However, Midnight is at its rawest on this ep. The vocals are wheezy and wild, between raw speed metal, black metal and punk vocals. You can hear Motörhead and Hellhammer on guitars; sometimes fast Eddie Clarke riffs in a filthier form, sometimes doomy and dark Hellhammer corruption. All the songs in the EP have their own character, but my favourites are Black Rock'n'Roll and Vomit Queens. You'll find primitive guitars, d-beat punk drumming, devilish rock'n'roll solos, satanic lyrics, nocturnal music, lots of blasphemy & lust in Midnight.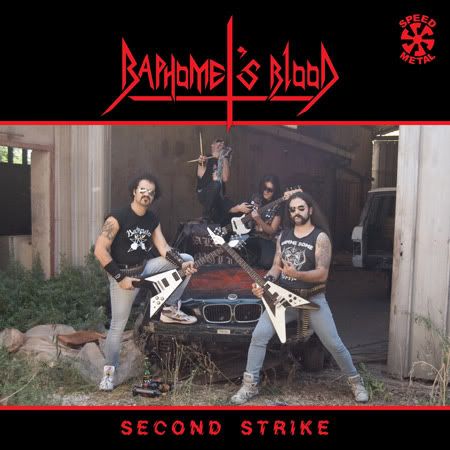 Although the main noise makers behind Baphomet's Blood are known for their nuclear desecration with Blasphemophagher, I'm much more interested in their straight speed/thrash work. They are not a serious political band, they don't want to save the world, don't have musical concerns; they just drink with satan and play Motörhead worship raw speed metal, and this is what I demand from them. Second Strike may seem ordinary or cliche, but quite original actually. Their main influences are Motörhead, Venom, Bulldözer, Running Wild, Exciter, Tank, and some Slayer and Sodom. Second Strike also offers lots of rock'n'roll moments, especially on solos. The album takes the listener back to 80's by its sound and musical substructure. On the one hand it is a typical speed/thrash album, on the other hand, it's more barbaric and cruel harsher than an average speed metal band. It's non-smooth melodies, characteristic guitars, Necrovomiterror's rough vocals combining Lemmy-Cronos-AC Wild's vocal styles, guitar riffs reminding 80's NWOBHM and speed metal bands with more evil form make Second Strike a distinctive and unique album, just like the first Baphomet's Bood LP Satanic Metal Attack. If you like drunk, anti religious & satanic and destructive speed metal and Motörhead (fuck all who don't worship Lemmy), this album is just for you. Have a beer and enjoy.
Cerebral veins haven't exploded yet and the nightmares from the depths of hell who often raped your true scummy spirit didn't repeat in these days then you haven't listened the impious manifestation named "Sulphur Blessing" yet. Including Zolrak Montes (ex-Morbosidad, Nodens) on strangulationz and the beasts of Godslaying Hellblast (Abomination on vomitz, Haagenti on hammers) this malicious trio succeeded to record this demo in such a short period of time. Announced to all the crying faggots!

Released on tape by Iron Bonehead Productions, it offers to be a witness for the unique scorching barbarism from the first track until the final track with an unmitigated hatred. Moreover, there are quite catchy parts that can cause to break your head. For example; the grandiose riff that begins at 1.30 in the opening track "Sacrocurse Temple" is really one of the puissant moments. Additionally, the riff at 1.01, and 1.54 - 2.34 in "Command Demonic Prayers", and 1.24 in the title track are just a few examples.

While you're baptized by the South American trademark ultra-fast riffing that includes some hints of Morbosidad and each of incredible and predatory guitar solos of Zolrak, there's gruesome echoes blow up in the ears with Abomination's well-known unique shrieks, brutal vomits and extended laughs and in the other side menacing drumming of Haagenti provides a great balance with the guitars. In the mix, snare was optimized to fit band's sound very well. Razor-sharp guitar solos dominates so you may be hypnotized. The drumming with the guitar solo that begins at 1.27 of the second track, performs one of the coolest moments. The final track "C.O.N.V.U.L.S.E." conquers with the epical structure so the flag of blasphemy is continued to carry by the riff that starts at 1.54 with the chainsaw guitar solo. Abomination really rules by performing his toxicant singing, and horrific screams again. If you think Sacrocurse only blasts you, then you're wrong because the tracks include excellent mid-tempo lunacies. But each parts of the tracks will separately rip your ears, and kick your lazy asses!

Get this tape for your collection immediately, otherwise you will miss one of the milestone black-death releases in the last years. Totally destructive, raspy and never compromises from old-school madness.
You probably say "too ordinary" about the band's name and it does not take a lot of time to realize that is a black-thrash/punk assault. Cliche fact is no problem, moreover, if the resulting material is so perfect then you never care the band's name. Make sure this fukkin black punks can be a heir of the demons such as Bathory, Impaled Nazarene, Witchmaster, Gospel Of The Horns soon. Including 7-tracks (one of them is Wolfpack cover "Enter The Gates"), Portuguese guys have created blasphemous and obscure earthquake in their first release yet, so we faced with an incredible combination in the vein of European perversity that includes black metal, punk and thrash elements.

Perhaps they don't say "we presented something different which you've never heard before" but in recent years i've seen a few bands that spew hatred so successfull in this style. Another example is Bolivian blasphemers Satanic Bloodspraying, total Impaled Nazarene worship. (better than the last years of Impaled Nazarene) Just like Motörhead, Venom, Sodom, Impaled Nazarene, booming grim bass trembles dominate the tracks from start to finish. Vocals incredibly fit to the band's noise because the vocalist has dirty and impure voice that presents old school black metal as it should be. It offers European satanic black metal riffs thus you often hear riffing that respects to the true old devils like Mayhem and Darkthrone. Drummer punishes with solid d-beat punk assaults so the tracks reflect the ambience of satanic brutality and evil punk spirit. Only lyrics would be better, they'll need to write more mature satanic lyrics in the following releases in my opinion.

Album is something like "Motörpenis" and "Ace Of Spades" meets "De Mysteriis Dom Sathanas" or "Under The Sign Of The Black Mark". "Your god that never was" has the cool vocal remnants of Atilla in the bewitching slow part, and "Drunk, slut, 666" is %100 alcoholic black metal/punk invasion that kicks your ass and strikes you within two and a half minutes. "Black candles burn" pisses on you with great main riff, and dark/catchy chorus part. I don't know if Wolfpack knows "Enter The Gates" cover in this EP, but if they know they should be honoured. That's a d-beat lesson! Magnificient and fastest darkness comes down upon you! Highly recommended!!!
Album Reviews: ZYGOATSIS – SATANIC CULTUS & UNHOLY DESECRATION (2011)
In the summer of 2011, Siamese barbarism returned with a release such as a demonic battalion have rained the bullets, a barrage of nuclear missiles in the final level of the massacre. Although it was known from previously released ep, and split records how they would spread the terror, these Thai guys made more full-fledged, armored destruction with 9-tracks including a cover of Impiety this time. (CD version also includes the "Lord Of The Void" cover of Archgoat) Especially when we saw the first artwork that was made by Moyen, we slapped ourselves! The other alternative artwork was made by Sickness666 who is the vocalist of the band. Moyen depicted his creative and ingenious ideas of the diseased very well with the artwork of declaring the war of hell against all the countries. With the title named "Hell declares the war against...", a list of countries from a to z was held by a demon in gas mask that was fully equipped together with its cavalries on horses. Missiles, minigun hanged on a horse, and other figures are the details that was created by a sickness brain which should be considered one by one.
The second album that was released in 2013 hit thrash metal scene but anyway, let's continue to talking about "Satan's Cross".

Maybe the reason of everything could be "Blood Fire Death". It pointed the style which Regan and his crew have always wanted to play after they listened, then the roots of Nocturnal Graves were created. Does not have the bounds with any countries, considered one of the continents of the world's most difficult to reach, where kangoroos bounce, if you use the names "Australia" and "underground extreme metal" you find the Victoria metal atmosphere of the devil-ridden, the crosses of upside down, heat up by the furnaces of hell. Well-known from the bands such as Hobbs Angel Of Death, Deströyer 666, Destruktor, Bestial Warlust, Toxic Holocaust even a session, two experienced guys Nuclear Exterminator and Regan revealed Nocturnal Graves by saying that such an hell was not enough for them. After the demo and EP that showed how the debut would be psychopathic, they released "Satan's Cross" to stick the devil's inverted cross on our eyes. Totally old school black death thrashing metal, a combination of their music hit the target very well. This is very special album between another black-thrashing records, because Nocturnal Graves created a cool characteristic sound with "Satan's Cross" instead of doing a simple retro thrash work like many other bands did.
Apocalyptic d-beat hell that was made in Japan! Most of you know how Disclose is important for d-beat scene. Perhaps one of the most cult Raw Punk Hardcore / D-Beat bands for me and many people I think. Were established in 1992, musical and lyrical structure under the intense influence of Discharge, this Kochi City's legend band presented plenty of distorted guitars, darkest d-beat ambience music and lyrics as the subject of nuclear wars, environmental destruction would bring terrible results and such as post-apocalyptic approaches. One of their best records, no doubt, "Visions of War" is the highest mark of the band which is published in 1996, the name come from Discharge's same named song however EP already contains a cover of this song. But this is more solid masterpiece that presents their hyper-energy effort of raw punk d-beat hell. Just like the name Disclose is another trademark band of pessimistic approach about the future, so album begins with a scary track, sizzling guitar sound and solos and riffs as well as creativity in terms of and variability, a great combination of well-recorded bass and drums, this is one of the highest standard records in genre. Dark songs as possible were written to bury the listeners into the battlefields of hell! Disclose's sound reflects the panic of society that was brought by nuclear war era, the human race was programmed to kill, occuring of social chaos, and as a result worrying about the world that was surrounded by nightmare very well. The usual distorted guitar sound for Disclose, crackling riffs and gloomy guitar solos, d-BEATING drumming patterns and Kawakami's high-pitched barker and pessimist vocal style tell us "free to wear gas mask while listening". All of your dark hardcore satisfactions can be fed by that classic record! The most important D-Beat band of Asian scene ended by dying of Kawakami on June 5, 2007 cause of alcohol overdose with sleeping drugs he used extremely.
42 Yazı (5 Sayfa, 10 yazı/sayfa)
[ 1 | 2 | 3 | 4 | 5 ]