Menü
Üyelik
---
Ziyaretçiler
01: 54.36.149 xxx
02: 54.36.149 xxx
03: 196.245.2 xxx
04: 54.36.148 xxx
05: 54.36.148 xxx
06: 54.36.148 xxx
07: 207.46.13 xxx
08: 54.36.149 xxx
09: 54.36.148 xxx
10: 54.36.148 xxx
11: 207.46.13 xxx
12: 54.36.149 xxx
13: 54.36.148 xxx
14: 66.249.64 xxx
15: 54.36.148 xxx
16: 54.36.149 xxx
17: 54.36.149 xxx
18: 178.159.3 xxx
19: 54.36.148 xxx
20: 54.36.148 xxx
21: 54.36.148 xxx
22: 54.36.148 xxx
23: 54.36.149 xxx
24: 104.227.1 xxx
25: 54.36.148 xxx
26: 54.36.148 xxx
27: 54.36.148 xxx
28: 54.36.148 xxx
29: 54.36.149 xxx
30: 54.36.148 xxx
31: 54.36.148 xxx
32: 54.36.148 xxx
33: 216.244.6 xxx
34: 54.36.148 xxx
35: 54.36.148 xxx
36: 54.36.149 xxx
37: 54.36.148 xxx
38: 66.249.70 xxx
39: 54.36.148 xxx
40: 185.104.2 xxx
41: 54.36.148 xxx
42: 54.36.148 xxx
43: 36.57.176 xxx
44: 54.36.149 xxx
45: 54.36.149 xxx
46: 54.36.148 xxx
47: 54.36.148 xxx
48: 54.36.148 xxx
49: 54.36.148 xxx
50: 54.36.148 xxx
51: 54.36.149 xxx
52: 165.231.1 xxx
53: 66.249.66 xxx
54: 54.36.148 xxx
55: 54.36.148 xxx
56: 54.36.148 xxx
57: 54.36.148 xxx
58: 54.36.149 xxx
59: 66.249.66 xxx
60: 54.36.149 xxx
61: 54.36.149 xxx
62: 14.165.19 xxx
63: 54.36.148 xxx
64: 54.36.148 xxx
65: 66.249.66 xxx
66: 66.249.70 xxx
67: 54.36.148 xxx
68: 54.36.148 xxx
69: 178.154.2 xxx
70: 54.36.149 xxx
71: 54.162.12 xxx
72: 45.77.218 xxx
73: 54.36.148 xxx
74: 54.36.148 xxx
75: 54.36.148 xxx
76: 54.36.148 xxx
77: 54.36.148 xxx
78: 46.191.24 xxx
79: 54.36.149 xxx
80: 54.36.148 xxx
81: 54.36.148 xxx
82: 54.36.148 xxx
83: 54.36.148 xxx
84: 54.36.149 xxx
85: 42.115.15 xxx
86: 54.36.148 xxx
87: 54.36.148 xxx
88: 54.36.148 xxx
89: 54.36.148 xxx
90: 54.36.149 xxx
91: 54.36.149 xxx
92: 54.36.148 xxx
93: 54.36.148 xxx
94: 192.3.183 xxx
95: 54.36.149 xxx
96: 54.36.148 xxx
97: 115.73.14 xxx
98: 54.36.149 xxx
99: 46.161.9. xxx
100: 54.36.149 xxx
101: 54.36.148 xxx
102: 54.36.149 xxx
103: 54.36.149 xxx
104: 54.36.148 xxx
105: 54.36.148 xxx
106: 54.36.148 xxx
107: 190.122.2 xxx
108: 54.36.148 xxx
109: 54.36.148 xxx
110: 54.36.148 xxx
111: 54.36.149 xxx
112: 199.116.1 xxx
113: 199.59.15 xxx

Eggs of Gomorrh was formed in late 2006 to create black/death metal violence that accents the filth that is rarely present in nowadays bands. Having multiple influences from all around the world it was obvious that the idea behind the name had to be a mixture of blasphemous raw black metal mixed with vicious terror of morbid death metal. We soon realized that the common effort of the band's members would lead us to a disgusting impact of a style that we like to call "blasphemic snuff metal" where the accent of our message would be targeting the taboos of human perception: whether spiritual or sexual and put out a huge agression towards the people who limit themselves to them. Eggs of Gomorrh stands for complete death worship and blasphemous sex. Diseases have brought mankind a pleasure of eradication and therefore we can only praise them and insight sickness to procreate and masturbate while seeing the human plague lead itself to ultimate genocide due to their own limitations and primal stupidity. Laceration of existence by the Rot Prophet and final injection of air in your veins will bring us the orgasm through slowest of tortures and eventual light of death. Official band page;

https://www.facebook.com/eggsofgomorrh/?fref=ts
Originating from Brazil, Rio de Janerio, Grave Desecrator was found by Vallakk The Necrogoat and F. Mordor as a Black/Death Metal act in 1998. Then Butcherazor joined them as the bass player, but they had a drummer problem for a long time. In 2001, producer L. Pagani supported the band and played as a session drummer for Grave Desecrator's first demo, Demo 01. The demo had 4 songs and released by Sword & Leather. However, they couldn't play a notable gig because of the absence of a permanent drummer.

Grave Desecrator signed to German label Ketzer in 2003 and the drummer Adrameleck who also played in Sodomizer, Hellkommander and Apokalyptic Raids joined the band as the consistent drummer. 7" EP "Cult of Warfare and Darkness" was the first record with Adrameleck. They disbanded for personal reasons but reunited in 2006. F. Mordor left the band, Butcherazor took on the vocals, Black Sin and Damnation became the second guitarist, and the real chaos broke up: "Sign of Doom". Taking influences from ancient black/death acts like Sodom, Blasphemy, Beherit, Vulcano, Sarcofago, Possessed and etc., Grave Desecrator recorded a quite remarkable album. Lyrically interested in satanism, death and sex, Sign of Doom was a blast with powerful, primitive and necro guitar riffs, hammer-like blast beats and strong, gloomy, evil vocals.
2009's "Five Skulls and One Chalice" revealed the truth; these old farts are still playing black/thrash metal in the oldschool attitude without no compromising, so if we discuss their history by beginning from "Bloody Vengeance" era it's possible to say they have not given a fuck the changes in the sound, and fucking experimentals, modern production or technicality so they deserve to be respected. Vulcano has key influences on the first black-death metal bands such as Beherit, Blasphemy together with Sarcofago. Band was founded in 1981 in Sao Paulo city by Carli Cooper (bass), Zhema (guitar) and Paulo Magrão (guitar), later they moved to the city of Santos in 1982.

They did their early live performances under the name "Made In Brazil", they recorded the demo "Om Pushne Namah" in 1983. After this 4-track demo, Magrão and Cooper left the band, they were replaced with Johnny Hansen (guitar) and Renato (drums). And Zhema left the guitar duty, he began to play bass. In 1984 a second demo tape of the 8-track "Devil On My Roof" was released. The band's famous track named "Witches Sabbath" appeared for the first time in this demo so we see Nifelheim covered it. During the tour, Hansen and Renato left the band, and then the works were more difficult for Vulcano, because Zhema stayed as the only original member. But he found Soto Júnior (guitar), Zé Flávio (bass), Laudir Piloni (drums) and Angel (vocals), so the band's line-up takes the real form.
Satanic Thrash metal in hell!!! Founded in 1986, Morbid Saint was among the most extreme and brutal thrash metal bands in with the bands such as Demolition Hammer, Dark Angel, Exorcist and some others in U.S.A. so their key influence on black-death metal scenes is well known. Similar to Kreator, Dark Angel, Destruction and Sodom they played fast, agressive, brutal and a bit black metal-esque thrash/speed metal, and their lyrics are totally based on themes such as satan, hell, and death . In 1988, they recorded their first demo, which they called "Lock Up Your Children" and the following year band's debut and only one album named "Spectrum Of Death" was released by Mexican company Avanzada Metálica , it was produced by Chuck Schuldiner and Eric "Griffy" Grief is the manager of Death. This legendary record was a milestone for thrash metal history, so it was re-released by Grind Core Int. in 1991. "Spectrum Of Death" is a perfect blend of German Thrash and Bay-Area style. Filled with brutality and aggression, this classic includes the riffs such as razor blades, concrete-like bass guitars, drums of the vibration and shredding vocals which presented the one of the most extreme records in 1980s. In 1992 they recorded demo of 33 minutes named "Destruction System", but they didn't release it. Because this is a demo that was only prepared for fans. The band split-up in the mid-1990s. In 2006, three members of the band founded a new band named Hallowcore.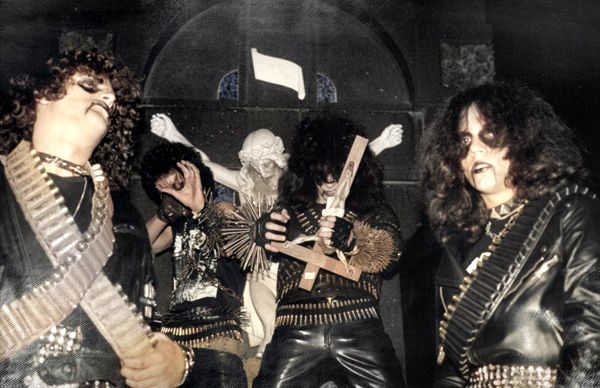 Like to describe them as "Brazilian Sodom" everytime, although the academician guy Wagner does not want to remember the old days anymore. Yeah, I think most of the people have heard Kaos Kommando in the style of cult Finnish hardcore punk like Terveet Kadet, if you remember the live bootleg "Nights In Hell" then you will know they were covering two Terveet kadet songs.

There were the marks of first true desecration with the forming of Sarcofago and Sepultura in South America, so the barbaric devil-worshipping metal began to fill the veins with hellish poison then we can tell the bastard youth of today that they have a great sign on almost many extreme metal bands nowadays. Especially bestial metal bands such as Von, Beherit, Blasphemy showed them as key influence on their music.

Sarcofago was founded in 1985 in Belo-Horizonte under the flag of satanism, perversion, sex, alcoholism, and especially anti-Christianity that have the biggest influences to create their ideas to write lyrics, and the music in the early demos "Satanic Lust", "The Black Vomit", "Christ's Death" so the underground metal scene would meet with a band that had the brutal devil metal rules in the future!!! Hell metal acts of the era such as Venom, Hellhammer, Celtic Frost, Sodom, Destruction, Possessed, Bathory were the key influences, after the agreement with Cogumelo Records, the debut full-length "INRI" (1987) was made to dedicate the brutal spirit of Satan, and desecrated all the divinities. Devilish and dark atmosphere, pure growls and screams, muffled sound effects, simplistic and accursed primitive speedy-black metal riffs that were possessed by devil and close to the German Thrash metal witching emerged a primitive black metal album that has done a menacing rise.
Properly if the record compaines supported them with more attentive face then this band would be better than their current point. Razor always kept the real spirit in thrash metal, they have always played pure thrash to crack your head. Formed in 1983 in the city of Ontario by Dave Carlo (guitar), Stack "sheep dog" McLaren (vocals), Mike Campagnolo (bass) and Mike "M-Bro" Embro (drums), they have inspired many bands in Thrash and more extreme metal scenes. Influenced from Motörhead, Slayer, Venom, Judas Priest, Exciter and the others, they have eight albums in their discography, but although they did such plentiful records, their value has been known more with retro-thrash explosion in recent years.

After they were formed, the 2 demos appeared and "Armed And Dangerous" EP was recorded and released limited to 1200 copies. But they would need a reliable record company so they signed with Canada's Attic Records, and three consecutive full-lengths "Executioner's Song" (1985), "Evil Invaders" (1985), "Malicious Intent" (1986) were released through same company. The first album, "Executioner's Song" provide to prove themselves with the aggressive style, this made to gain a brand-new fan base. "Evil Invaders" was more brutal by Stace McLaren's increasingly high-pitched vocals and screams and guitarist Dave McLaren's razor-sharp riffs which volley the listeners, it was the more attack-oriented album. During this period, they toured with the bands like Motörhead, Venom, Slayer including Canada, U.S.A., they filmed a video clip for the title track, so it was one of the first Speed Metal clips in the world.
Now we will mention a band that changed the name. Those who follow this kind of underground black-death metal scene they know very well who they are now! "Void Meditation Cult".

Sperm Of Antichrist was founded in 2009 in Ohio. When Ohio city and the term "metal" was combined they always remind me Necrophagia that's one of my favourite metal bands. When we discuss their sound it's very similar to Von and Beherit style. Generally, the songs are almost slow tempo structured by doomy death metal riffs, evil wild vocals whispering vocal contributions of the mentally ill, together scattered parts of cold rather morbid effects hell, the result is dark hell atmosphere. In some guitar parts it's also very reminiscent of Beherit. So "Drawing Down the Moon" definition by Hells Headbangers is becoming very well. They released their first demo tape through Hells Headbangers in the last days of 2009. Sound is much better with a re-releasing of tape in the summer of 2010.

Follow Void Meditation Cult...
When the devil's terrible hummings occured from the abysmal unsighted depths of hell in Rotterdam in 1991, in fact one of the top bands has spawned the unholy winds of blasphemous was going to appear. Their stringent ideological representatives are oriented on spreading the satanic terror through the earth without any fake ideas, and always managing to protect the sacrilegious spirit of real underground in the name of True Black metal. Recorded in the following year, the first demo was not presented to the fans except for underground magazines and record labels. In 1993, the 5-track demo named "La Majeste Infernable", and another one two-track demo and live recordings were released under the name "Resurrection" through Polish label Pagan Records in 1994. After the joining of Insinah Xul they shared the stage with Vader and Kat in the Polish festival named Sthrashydto 94. Following the festival they entered the studio for the 6-track outrage, so two of them released as the EP "Thy Eternal Flame", and the rest of tracks were included in the split with Japanese black-thrash band Abigail that was released by Warmaster Records. In these periods, Funeral Winds was quite early band yet, the limits they played was not beyond the mediocre raw black metal of course.

Normally they completed the debut in the summer of 1995, but there would be too many problems such as the murder arrest of Hell Christ Xul (Maurits Jansen) cause of attempting to kill the bass player of Dutch death metal band Sinister. Later it's well-known in an interview of Archaic-Magazine.com, Hell Christ Xul says like that "He should thank me for the experience of intimacy to know how he could lose his life at the top his career" so he meaned he was wrong guy to trade for black metal so he was deserving to die.
Italian old-school black/ thrash band was founded in 2002 in Sardinia. Emerged from the ashes of a black metal cover band named Frozen Darkness, they were formed to declare the war of hell against the religions by the worshipping to 80's/early 90's depraved evil metal sound. Including 2 covers (one of Venom - Black Metal, and the other Tormentor - Tormentor) 8-track demo "In Nomine Deus Quad Ecelesias Igne Absumor" was recorded the same year. While the preparation was being made for the compositions of new tracks, in the meantime a new name NekroFelyam (bass) joined the band. In 2004, the first full-length "...Instar Gladii in Corporem Christi"came out, and they put us in hell with raw black-thrash blasphemy. Later, the two members Necrofelyam and Necrowinter's leaving caused to negative impact about working on new stuff. However Necromaniac has only waited for 2 years and suddenly returned together with the new members to invert the cross again. Immediately after that, the 3-song promo "Goatwar Promo 666" was released and the second blasphemous desecration attack "Antiklerical Terroristik Death Squad" came out. Sound was more oriented on a mixing of black, thrash metal and some punk and even rock'n'roll touches under the influence of Sodom, Impaled Nazarene, Venom, Motörhead, Discharge, and Hellhammer. It was delivering the variety of compositions between black metal and rock and roll with raspy black-thrash vocals, crunchy sound of guitars, riffing of catchy as fuck, hell-screaming guitar solos and puncher beats in drumming. Let's shout like that "In The Name Of God Let The Churches Burn"… or "Vatican Burning", in fact all religions must be burned! Today I think Necromessiah is the greatest newcomer (post-2000) black-thrash band in Italy.
I Wanna Fuck Youuuuu... Remember that screams, or shout like "SDI! Megamoshhh" in chorus.

SDI, the legend of German Thrash behind the doors... Satan's Defloration Incorporated is the expansion, they are one of the most important bands with Deathrow, Protector, Living Death, Assassin, Iron Angel in 80's German Thrash scene after the big four you thought. Formed in the city of Osnabrück in 1984 by vocalist/bassist Reinhard Kruse and drummer Ralf Reinhard has released three albums in active career.

During the year of 1986 the demo "Bloodsucker" was recorded. In the same year, debut album, "Satan's Defloration Incorporated" was released. Typical Speed/Thrash built riffs are energetic from start to finish, this album filled with songs both fun and fierce installed an excellent record. Opening by "Quasimodo" is a fast tempo track, an excessive album with another funny, crazy tracks such as "Wanker", "Chainsaw Massacre" and "I Wanna Fuck You" the band shows they would never know the rules. In addition, "Bloodsucker" is one of Speed Metal's most brutal examples offered.
13 Yazı (2 Sayfa, 10 yazı/sayfa)
[ 1 | 2 ]