Menü
Üyelik
---
Ziyaretçiler
01: 14.158.77 xxx
02: 218.3.128 xxx
03: 139.199.6 xxx
04: 185.104.2 xxx
05: 119.163.9 xxx
06: 59.48.171 xxx
07: 14.222.44 xxx
08: 54.36.148 xxx
09: 51.255.71 xxx
10: 58.49.121 xxx
11: 218.17.15 xxx
12: 218.22.51 xxx
13: 42.177.36 xxx
14: 115.239.2 xxx
15: 182.253.1 xxx
16: 183.27.17 xxx
17: 182.253.1 xxx
18: 54.36.148 xxx
19: 60.13.214 xxx
20: 220.165.2 xxx
21: 221.235.2 xxx
22: 180.95.18 xxx
23: 1.49.2.5 xxx
24: 1.204.65. xxx
25: 171.8.254 xxx
26: 54.36.149 xxx
27: 110.6.249 xxx
28: 54.36.149 xxx
29: 196.196.8 xxx
30: 118.254.2 xxx
31: 221.3.67. xxx
32: 51.255.71 xxx
33: 114.93.18 xxx
34: 39.89.119 xxx
35: 54.36.148 xxx
36: 180.213.2 xxx
37: 54.36.148 xxx
38: 58.216.21 xxx
39: 113.111.4 xxx
40: 182.96.20 xxx
41: 101.20.14 xxx
42: 220.172.1 xxx
43: 111.124.7 xxx
44: 54.36.149 xxx
45: 54.36.148 xxx
46: 222.244.1 xxx
47: 54.36.149 xxx
48: 54.227.6. xxx
49: 183.6.159 xxx
50: 172.245.2 xxx
51: 113.116.1 xxx
52: 116.199.1 xxx
53: 118.123.3 xxx
54: 182.247.3 xxx
55: 54.36.148 xxx
56: 202.104.1 xxx
57: 27.217.13 xxx
58: 221.201.1 xxx
59: 42.103.14 xxx
60: 222.162.1 xxx
61: 219.135.1 xxx
62: 192.3.246 xxx
63: 111.200.1 xxx
64: 139.212.2 xxx
65: 114.241.1 xxx
66: 111.201.1 xxx
67: 113.132.1 xxx
68: 114.218.2 xxx
69: 106.83.59 xxx
70: 218.201.1 xxx
71: 54.36.148 xxx
72: 112.66.98 xxx
73: 180.116.1 xxx
74: 141.8.142 xxx
75: 27.13.33. xxx
76: 111.26.22 xxx
77: 115.204.3 xxx
78: 140.207.1 xxx
79: 54.36.148 xxx
80: 183.13.13 xxx
81: 122.139.1 xxx
82: 54.36.149 xxx
83: 27.30.125 xxx
84: 54.36.148 xxx
85: 218.4.235 xxx
86: 221.202.1 xxx
87: 36.63.222 xxx
88: 54.36.149 xxx
89: 113.206.9 xxx
90: 114.246.9 xxx
91: 124.204.4 xxx
92: 66.249.76 xxx
93: 116.231.2 xxx
94: 59.173.12 xxx
95: 54.36.148 xxx
96: 114.229.1 xxx
97: 182.119.1 xxx
98: 164.132.1 xxx
99: 218.201.1 xxx
100: 54.36.148 xxx
101: 60.17.167 xxx
102: 118.77.14 xxx
103: 66.249.69 xxx
104: 117.135.2 xxx
105: 87.250.22 xxx
106: 111.246.1 xxx
107: 223.100.1 xxx
108: 175.12.59 xxx
109: 60.249.24 xxx
110: 54.36.149 xxx
111: 122.84.48 xxx
112: 103.53.16 xxx
113: 66.249.75 xxx
114: 218.77.80 xxx
115: 121.238.1 xxx
116: 195.174.3 xxx
117: 123.178.1 xxx
118: 54.36.149 xxx
119: 116.231.3 xxx
120: 124.117.6 xxx
121: 222.42.62 xxx
122: 54.36.148 xxx
123: 54.36.148 xxx
124: 112.16.17 xxx
125: 125.227.1 xxx
126: 117.90.26 xxx
127: 66.249.69 xxx
128: 111.47.50 xxx
129: 1.31.251. xxx
130: 182.33.16 xxx
131: 218.6.244 xxx
132: 87.250.22 xxx
133: 1.29.232. xxx
134: 153.34.20 xxx
135: 112.16.18 xxx
136: 211.103.1 xxx
137: 1.180.206 xxx
138: 54.36.148 xxx
139: 54.36.148 xxx
140: 54.36.148 xxx
141: 221.203.8 xxx
142: 58.216.22 xxx
143: 59.32.94. xxx
144: 1.204.60. xxx
145: 59.39.183 xxx
146: 180.116.1 xxx
147: 217.61.12 xxx
148: 183.140.8 xxx
149: 175.20.16 xxx
150: 54.36.148 xxx
151: 223.245.2 xxx
152: 36.100.71 xxx
153: 113.24.93 xxx
154: 123.163.1 xxx
155: 113.118.1 xxx
156: 54.36.148 xxx
157: 54.36.148 xxx
158: 54.36.148 xxx
159: 61.133.25 xxx
160: 51.255.71 xxx
161: 112.115.4 xxx
162: 54.36.149 xxx
163: 110.17.3. xxx
164: 117.30.23 xxx
165: 87.250.22 xxx
166: 1.81.102. xxx
167: 54.36.148 xxx
168: 218.29.47 xxx
169: 54.36.149 xxx
170: 223.220.1 xxx
171: 172.86.11 xxx
172: 27.27.200 xxx
173: 60.30.37. xxx
174: 221.131.7 xxx
175: 114.82.17 xxx
176: 112.66.14 xxx
177: 106.113.2 xxx
178: 14.104.86 xxx
179: 118.112.9 xxx
180: 116.52.71 xxx
181: 42.228.5. xxx
182: 117.9.146 xxx
183: 118.123.4 xxx
184: 58.218.64 xxx
185: 121.227.7 xxx
186: 117.141.1 xxx
187: 175.17.17 xxx
188: 42.48.100 xxx
189: 223.72.88 xxx
190: 123.139.1 xxx
191: 61.163.47 xxx
192: 117.85.87 xxx
193: 112.26.5. xxx
194: 116.54.87 xxx
195: 220.173.4 xxx
196: 123.116.2 xxx
197: 61.166.25 xxx
198: 196.245.2 xxx
199: 62.210.20 xxx
200: 27.38.37. xxx
201: 49.85.159 xxx
202: 1.56.190. xxx
203: 106.57.23 xxx
204: 54.36.148 xxx
205: 60.13.219 xxx
206: 58.216.21 xxx
207: 54.36.149 xxx
208: 175.162.1 xxx
209: 221.195.1 xxx
210: 223.104.1 xxx
211: 218.29.96 xxx
212: 216.244.6 xxx
213: 60.211.13 xxx
214: 118.72.24 xxx
215: 117.25.21 xxx
216: 51.255.71 xxx
217: 125.86.17 xxx
218: 54.36.148 xxx
219: 54.36.149 xxx
220: 113.86.17 xxx
221: 54.36.149 xxx
222: 182.201.8 xxx
223: 36.49.151 xxx
224: 54.36.149 xxx
225: 95.108.18 xxx
226: 27.224.14 xxx
227: 114.95.14 xxx
228: 110.153.1 xxx
229: 54.36.148 xxx
230: 124.133.6 xxx
231: 66.249.69 xxx
232: 112.41.19 xxx
233: 124.228.1 xxx
234: 179.61.17 xxx
235: 125.93.83 xxx
236: 222.221.2 xxx
237: 61.164.10 xxx
238: 113.220.3 xxx
239: 111.199.1 xxx
240: 115.205.1 xxx
241: 118.112.1 xxx
242: 185.163.1 xxx
243: 54.36.148 xxx
244: 54.36.148 xxx
245: 118.253.1 xxx
246: 122.139.2 xxx
247: 116.233.2 xxx
248: 125.38.59 xxx
249: 52.209.11 xxx
250: 119.125.1 xxx
251: 120.193.2 xxx
252: 122.224.5 xxx
253: 117.60.20 xxx
254: 1.244.189 xxx
255: 198.46.21 xxx
256: 182.244.7 xxx
257: 219.133.1 xxx
258: 123.122.1 xxx
259: 110.87.18 xxx
260: 112.241.3 xxx
261: 142.91.11 xxx
262: 222.172.2 xxx
263: 54.36.148 xxx
264: 124.224.9 xxx
265: 36.63.230 xxx
266: 123.150.1 xxx
267: 198.20.18 xxx
268: 54.36.148 xxx
269: 54.36.148 xxx
270: 51.255.71 xxx
271: 1.204.204 xxx
272: 68.180.23 xxx
273: 113.4.223 xxx
274: 1.28.240. xxx
275: 54.36.148 xxx
276: 123.191.1 xxx
277: 118.250.1 xxx
278: 54.36.148 xxx
279: 116.27.47 xxx
280: 109.191.6 xxx
281: 111.175.2 xxx
282: 124.42.23 xxx
283: 124.207.2 xxx
284: 125.69.91 xxx
285: 222.80.15 xxx
286: 107.170.1 xxx
287: 198.46.21 xxx
288: 222.211.2 xxx
289: 183.96.10 xxx
290: 115.214.4 xxx
291: 58.244.14 xxx
292: 27.189.23 xxx
293: 113.99.22 xxx
294: 221.209.4 xxx
295: 54.36.148 xxx
296: 54.36.148 xxx
297: 123.120.1 xxx
298: 122.139.2 xxx
299: 111.162.2 xxx
300: 157.55.39 xxx
301: 1.52.107. xxx
302: 54.36.148 xxx

Midnight's formula is quite simple: Motörhead's rock'n'roll, Venom's satanism, Hellhammer's darkness and d-beat/hardcore punk tempos. It sounds like another Dis-clone band but they are a black/speed metal band rather than a crust band. They are "rotten" and they anyhow define themselves "unholy and rotten". On their full-lenght Satanic Royalty, released in 2011, Midnight has a more heavy/speed/thrash sound similar to King Diamond or Mercyful Fate in addition to the influences above. However, Midnight is at its rawest on this ep. The vocals are wheezy and wild, between raw speed metal, black metal and punk vocals. You can hear Motörhead and Hellhammer on guitars; sometimes fast Eddie Clarke riffs in a filthier form, sometimes doomy and dark Hellhammer corruption. All the songs in the EP have their own character, but my favourites are Black Rock'n'Roll and Vomit Queens. You'll find primitive guitars, d-beat punk drumming, devilish rock'n'roll solos, satanic lyrics, nocturnal music, lots of blasphemy & lust in Midnight.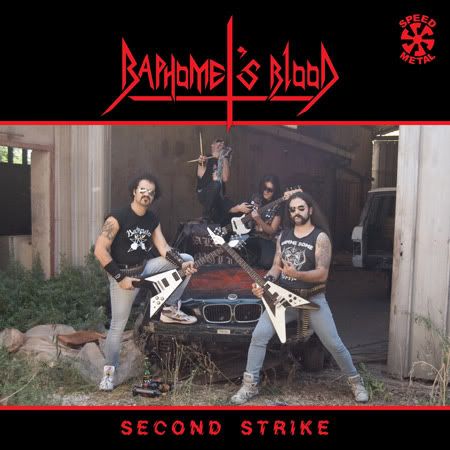 Although the main noise makers behind Baphomet's Blood are known for their nuclear desecration with Blasphemophagher, I'm much more interested in their straight speed/thrash work. They are not a serious political band, they don't want to save the world, don't have musical concerns; they just drink with satan and play Motörhead worship raw speed metal, and this is what I demand from them. Second Strike may seem ordinary or cliche, but quite original actually. Their main influences are Motörhead, Venom, Bulldözer, Running Wild, Exciter, Tank, and some Slayer and Sodom. Second Strike also offers lots of rock'n'roll moments, especially on solos. The album takes the listener back to 80's by its sound and musical substructure. On the one hand it is a typical speed/thrash album, on the other hand, it's more barbaric and cruel harsher than an average speed metal band. It's non-smooth melodies, characteristic guitars, Necrovomiterror's rough vocals combining Lemmy-Cronos-AC Wild's vocal styles, guitar riffs reminding 80's NWOBHM and speed metal bands with more evil form make Second Strike a distinctive and unique album, just like the first Baphomet's Bood LP Satanic Metal Attack. If you like drunk, anti religious & satanic and destructive speed metal and Motörhead (fuck all who don't worship Lemmy), this album is just for you. Have a beer and enjoy.
Originating from Brazil, Rio de Janerio, Grave Desecrator was found by Vallakk The Necrogoat and F. Mordor as a Black/Death Metal act in 1998. Then Butcherazor joined them as the bass player, but they had a drummer problem for a long time. In 2001, producer L. Pagani supported the band and played as a session drummer for Grave Desecrator's first demo, Demo 01. The demo had 4 songs and released by Sword & Leather. However, they couldn't play a notable gig because of the absence of a permanent drummer.

Grave Desecrator signed to German label Ketzer in 2003 and the drummer Adrameleck who also played in Sodomizer, Hellkommander and Apokalyptic Raids joined the band as the consistent drummer. 7" EP "Cult of Warfare and Darkness" was the first record with Adrameleck. They disbanded for personal reasons but reunited in 2006. F. Mordor left the band, Butcherazor took on the vocals, Black Sin and Damnation became the second guitarist, and the real chaos broke up: "Sign of Doom". Taking influences from ancient black/death acts like Sodom, Blasphemy, Beherit, Vulcano, Sarcofago, Possessed and etc., Grave Desecrator recorded a quite remarkable album. Lyrically interested in satanism, death and sex, Sign of Doom was a blast with powerful, primitive and necro guitar riffs, hammer-like blast beats and strong, gloomy, evil vocals.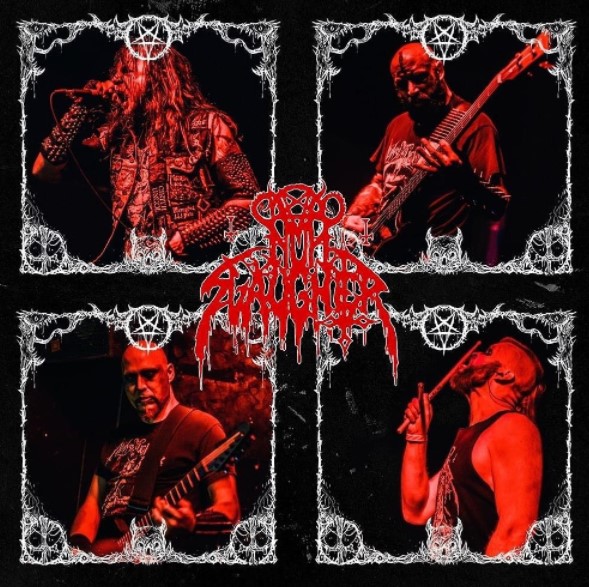 Ürün çıkarma konusunda doyumsuz olan Nunslaughter'ın bu konuda en az kendileri kadar doyumsuz olan Ukraynalı black metal grubu Moloch ile 7" split'i yakın zamanda çıkıyor. 144 adet basılan ürünün 56 tanesi yeşil plak, geri kalanları ise siyah plak olarak basıldı. Edinmek isteyenler aşağıdaki adrese yazsın;

thp.distro@gmail.com
Finlandiyalı kara ölüm metalcileri Maveth ile Yunan ölüm metalcileri Embrace Of Thorns'un biraraya gelerek 37 dakikalık ayine imza attıkları "A Plague Through the Heavens" adlı split'i Dark Descent Records'un bandcamp sayfasında yayına girmiş durumda. Split aşağıdaki linkten dinlenebilir;

Bandcamp Page
Finlandiyalı satanik ölüm metalcileri Swallowed Ekim ayında ilk albümünü Dark Descent den patlatarak bizi lanete boğmaya hazırlanırken, bu lanetten ilk gürültüleri albümden yayına koydukları fazlasıyla hastalıklı, mezar kokulu "Arterial Mists Of Doom" şarkısıyla sundu. Albüm için ise; eskilerden Asphyx ve yenilerden Hooded Menace tarzı doom/death metal ile, Cathedral gibi yavaş tempo heavy metal'in evil moduyla birleştiği, karanlık yavaş riflerle kanınıza girerek ve kara metal ile sizi büyüleyerek neticede kendi memleketlerinin Behexen ve Sargeist gibi gruplarının etkisi altında olduğunu gösteriyor yorumu yapıldı. Aşağıdaki linkten dinlenebilir;

Swallowed - Arterial Mists Of Doom
Fransız soğuk cehennem death metalcileri Necrowretch bizi dumurdan dumura uğratan ilk albümü "Putrid Death Sorcery" den sonra yepyeni albümüyle geliyor ve albüm kayıtları çoktan tamamlanmış bile. Grubun açıklamasında yeni albüm için "daha bestial" deniliyor.
Cerebral veins haven't exploded yet and the nightmares from the depths of hell who often raped your true scummy spirit didn't repeat in these days then you haven't listened the impious manifestation named "Sulphur Blessing" yet. Including Zolrak Montes (ex-Morbosidad, Nodens) on strangulationz and the beasts of Godslaying Hellblast (Abomination on vomitz, Haagenti on hammers) this malicious trio succeeded to record this demo in such a short period of time. Announced to all the crying faggots!

Released on tape by Iron Bonehead Productions, it offers to be a witness for the unique scorching barbarism from the first track until the final track with an unmitigated hatred. Moreover, there are quite catchy parts that can cause to break your head. For example; the grandiose riff that begins at 1.30 in the opening track "Sacrocurse Temple" is really one of the puissant moments. Additionally, the riff at 1.01, and 1.54 - 2.34 in "Command Demonic Prayers", and 1.24 in the title track are just a few examples.

While you're baptized by the South American trademark ultra-fast riffing that includes some hints of Morbosidad and each of incredible and predatory guitar solos of Zolrak, there's gruesome echoes blow up in the ears with Abomination's well-known unique shrieks, brutal vomits and extended laughs and in the other side menacing drumming of Haagenti provides a great balance with the guitars. In the mix, snare was optimized to fit band's sound very well. Razor-sharp guitar solos dominates so you may be hypnotized. The drumming with the guitar solo that begins at 1.27 of the second track, performs one of the coolest moments. The final track "C.O.N.V.U.L.S.E." conquers with the epical structure so the flag of blasphemy is continued to carry by the riff that starts at 1.54 with the chainsaw guitar solo. Abomination really rules by performing his toxicant singing, and horrific screams again. If you think Sacrocurse only blasts you, then you're wrong because the tracks include excellent mid-tempo lunacies. But each parts of the tracks will separately rip your ears, and kick your lazy asses!

Get this tape for your collection immediately, otherwise you will miss one of the milestone black-death releases in the last years. Totally destructive, raspy and never compromises from old-school madness.
You probably say "too ordinary" about the band's name and it does not take a lot of time to realize that is a black-thrash/punk assault. Cliche fact is no problem, moreover, if the resulting material is so perfect then you never care the band's name. Make sure this fukkin black punks can be a heir of the demons such as Bathory, Impaled Nazarene, Witchmaster, Gospel Of The Horns soon. Including 7-tracks (one of them is Wolfpack cover "Enter The Gates"), Portuguese guys have created blasphemous and obscure earthquake in their first release yet, so we faced with an incredible combination in the vein of European perversity that includes black metal, punk and thrash elements.

Perhaps they don't say "we presented something different which you've never heard before" but in recent years i've seen a few bands that spew hatred so successfull in this style. Another example is Bolivian blasphemers Satanic Bloodspraying, total Impaled Nazarene worship. (better than the last years of Impaled Nazarene) Just like Motörhead, Venom, Sodom, Impaled Nazarene, booming grim bass trembles dominate the tracks from start to finish. Vocals incredibly fit to the band's noise because the vocalist has dirty and impure voice that presents old school black metal as it should be. It offers European satanic black metal riffs thus you often hear riffing that respects to the true old devils like Mayhem and Darkthrone. Drummer punishes with solid d-beat punk assaults so the tracks reflect the ambience of satanic brutality and evil punk spirit. Only lyrics would be better, they'll need to write more mature satanic lyrics in the following releases in my opinion.

Album is something like "Motörpenis" and "Ace Of Spades" meets "De Mysteriis Dom Sathanas" or "Under The Sign Of The Black Mark". "Your god that never was" has the cool vocal remnants of Atilla in the bewitching slow part, and "Drunk, slut, 666" is %100 alcoholic black metal/punk invasion that kicks your ass and strikes you within two and a half minutes. "Black candles burn" pisses on you with great main riff, and dark/catchy chorus part. I don't know if Wolfpack knows "Enter The Gates" cover in this EP, but if they know they should be honoured. That's a d-beat lesson! Magnificient and fastest darkness comes down upon you! Highly recommended!!!
Album Reviews: ZYGOATSIS – SATANIC CULTUS & UNHOLY DESECRATION (2011)
In the summer of 2011, Siamese barbarism returned with a release such as a demonic battalion have rained the bullets, a barrage of nuclear missiles in the final level of the massacre. Although it was known from previously released ep, and split records how they would spread the terror, these Thai guys made more full-fledged, armored destruction with 9-tracks including a cover of Impiety this time. (CD version also includes the "Lord Of The Void" cover of Archgoat) Especially when we saw the first artwork that was made by Moyen, we slapped ourselves! The other alternative artwork was made by Sickness666 who is the vocalist of the band. Moyen depicted his creative and ingenious ideas of the diseased very well with the artwork of declaring the war of hell against all the countries. With the title named "Hell declares the war against...", a list of countries from a to z was held by a demon in gas mask that was fully equipped together with its cavalries on horses. Missiles, minigun hanged on a horse, and other figures are the details that was created by a sickness brain which should be considered one by one.