Menü
Üyelik
---
Ziyaretçiler
01: 192.126.2 xxx
02: 164.132.1 xxx
03: 137.74.20 xxx
04: 217.182.1 xxx
05: 217.182.1 xxx
06: 51.255.65 xxx
07: 51.255.65 xxx
08: 66.249.64 xxx
09: 137.74.20 xxx
10: 81.130.70 xxx
11: 91.108.17 xxx
12: 51.255.65 xxx
13: 217.182.1 xxx
14: 104.238.1 xxx
15: 164.132.1 xxx
16: 51.255.71 xxx
17: 66.249.70 xxx
18: 217.182.1 xxx
19: 217.182.1 xxx
20: 164.132.1 xxx
21: 51.255.65 xxx
22: 164.132.1 xxx
23: 192.157.2 xxx
24: 51.255.65 xxx
25: 217.182.1 xxx
26: 216.244.6 xxx
27: 157.55.39 xxx
28: 51.255.65 xxx
29: 51.255.65 xxx
30: 180.76.15 xxx
31: 216.244.6 xxx
32: 192.227.1 xxx
33: 198.50.18 xxx
34: 164.132.1 xxx
35: 164.132.1 xxx
36: 164.132.1 xxx
37: 51.255.65 xxx
38: 66.249.64 xxx
39: 51.255.65 xxx
40: 164.132.1 xxx
41: 95.10.184 xxx
42: 107.20.16 xxx
43: 31.13.113 xxx
44: 185.222.1 xxx
45: 164.132.1 xxx
46: 142.44.13 xxx
47: 51.255.65 xxx
48: 216.244.6 xxx
49: 217.182.1 xxx
50: 51.255.65 xxx
51: 164.132.1 xxx
52: 51.255.65 xxx
53: 180.76.15 xxx
54: 164.132.1 xxx
55: 188.124.9 xxx
56: 51.255.71 xxx
57: 51.255.65 xxx
58: 192.3.7.1 xxx
59: 164.132.1 xxx
60: 51.255.65 xxx
61: 54.145.20 xxx
62: 51.255.65 xxx
63: 54.198.14 xxx
64: 164.132.1 xxx
65: 217.182.1 xxx
66: 66.249.70 xxx
67: 51.255.71 xxx
68: 207.46.13 xxx
69: 51.255.65 xxx
70: 104.160.1 xxx
71: 164.132.1 xxx
72: 94.75.108 xxx
73: 217.182.1 xxx
74: 5.135.189 xxx
75: 164.132.1 xxx
76: 217.182.1 xxx
77: 5.188.211 xxx
78: 45.57.236 xxx
79: 217.182.1 xxx
80: 68.180.23 xxx
81: 51.255.65 xxx
82: 151.80.27 xxx
83: 217.182.1 xxx
84: 93.114.23 xxx
85: 8.29.198. xxx
86: 8.29.198. xxx
87: 66.249.93 xxx
88: 66.249.93 xxx
89: 164.132.1 xxx
90: 66.249.64 xxx
91: 51.255.71 xxx
92: 217.10.20 xxx
93: 217.182.1 xxx
94: 51.255.65 xxx
95: 164.132.1 xxx
96: 219.131.8 xxx
97: 151.135.1 xxx
98: 31.223.24 xxx
99: 103.247.1 xxx
100: 51.255.71 xxx
101: 164.132.1 xxx
102: 66.249.70 xxx
103: 51.255.65 xxx
104: 137.74.20 xxx
105: 217.182.1 xxx

When I first heard the EP name "Penis Metal" a few years ago, thought an interesting band and how it was something i faced, i asked myself. But later Hades Archer was one of the greatest favourite bands of me from the underground black/death metal scene in South America. Spreading chaos, unholy pervertion (especially with the secret cover of Sodom's "Equinox") we encountered with these demons, so their debut album to have such a wonderful does not surprise for me. Of course not, there are some bands to say about that "their ep or demo was much better than the first album, it does not reflect the same atmosphere" but Hades Archer has done the opposite, and they released the "For The Diabolical Ages" curse.

The sound is more black/thrash metal than the EP with some death metal filled parts. Except that "Into The Black Mass" which has the apocalyptic mood, the album creates deadly destruction, crushes all the holy themes from start to finish. Reverberant vocals, fast and brutal thrashy riffs are exploding on your face, the well-written guitar solos, when all these factors together have created a stunning ambience. The cover artwork reflects the perversion theme successfully. "Sodoma Eden" is my favourite as an element of damage which is a full-fledged. "Ways of Bestiality" has suddenly tempo change with a strange passage. The effected brutal vocals almost came out from an exploison of hell. "Daughter of Perversion" was dominanced with more chaos. Reverberant necro sound of South American hell. This fully reflects the terrorism of satanic thrash-black metal you wanted to inhale.

Think "Bestial Devastation" and "Morbid Visions"era, or Sarcofago, Sextrash, Mutilator. Highly recommended! (Note: The Santiago city is really unholy!)
Satanic Thrash metal in hell!!! Founded in 1986, Morbid Saint was among the most extreme and brutal thrash metal bands in with the bands such as Demolition Hammer, Dark Angel, Exorcist and some others in U.S.A. so their key influence on black-death metal scenes is well known. Similar to Kreator, Dark Angel, Destruction and Sodom they played fast, agressive, brutal and a bit black metal-esque thrash/speed metal, and their lyrics are totally based on themes such as satan, hell, and death . In 1988, they recorded their first demo, which they called "Lock Up Your Children" and the following year band's debut and only one album named "Spectrum Of Death" was released by Mexican company Avanzada Metálica , it was produced by Chuck Schuldiner and Eric "Griffy" Grief is the manager of Death. This legendary record was a milestone for thrash metal history, so it was re-released by Grind Core Int. in 1991. "Spectrum Of Death" is a perfect blend of German Thrash and Bay-Area style. Filled with brutality and aggression, this classic includes the riffs such as razor blades, concrete-like bass guitars, drums of the vibration and shredding vocals which presented the one of the most extreme records in 1980s. In 1992 they recorded demo of 33 minutes named "Destruction System", but they didn't release it. Because this is a demo that was only prepared for fans. The band split-up in the mid-1990s. In 2006, three members of the band founded a new band named Hallowcore.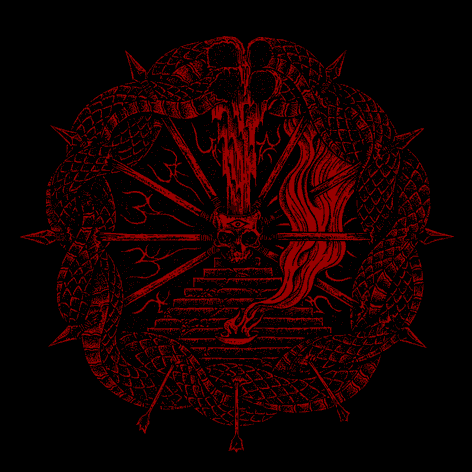 Death, satan, black mass, occultism and a band as severe as a hammer slamming to the head. Witchrist is a side-project by the members of Diocletian, and their debut Beheaded Ouroboros is absolutely one of the most cruel and pestiferous records of 2010. What separates it from other death metal albums of the year is the hellish black metal influence. Pre-90 Bolt Thrower, Autopsy, Incantation, Asphyx and some Blasphemy & old Mayhem are the main influences of the record.

There is an intense occult atmosphere in the album. The songs are usually on mid or fast tempos but when you hear the slow doomy parts, often with the help of church bells you are in a demonic trip. The sound is raw but plain. The vocals are mostly raucous roars but in slow & heavy parts you also hear suffering screams. The guitars are down-tuned, occasionally playing necro black metal or devastating and catchy thrash-death riffs. There are also Slayerish twisted solos. The whole album is a ritual and can encourage you to perform black mass in a cemetery.
BLASPHEMER METAL PUNK! This is an album that can blow the your mind! Formed in 2002, Infernal Stronghold cursed & destroyed all the curches and raped the gods with their flawless mixture of blasphemic black metal and punk. They were influenced by 90's black metal and dark Sweedish crust; early Sodom, early Darkthrone, early Mayhem, Impaled Nazarene, Hellhammer, Blasphemy, Bathory, Katharsis, Anti-Cimex, Disclose, Discharge etc. And with their lyrics talking about brainwashed minds, how bullshit the religion is, calling god dog, breaking into the churches with big trucks, the band distinguish from most of the other neo-crust bands. Basically a DIY punk band playing venomous punk/black metal.

The songs are short, and the album lasts 26 minutes. The production is qulified, but not synthetic or polished. The leading melodies in the songs often remind the ones in Transilvanian Hunger, especially in "Crippling Blasphemous Persistence" and "Crashing Trucks into Churches". They are the most "black meta" tracks in the album. On the other hand, there are more punk-influenced songs like "Taghut" or the last song "Buried by Grime & Crust". Especially the Buried revives the Sweedish Hardcore. Although the songs are fast & furious by the aid of blast-beat assault of drums, there are some slow, dark and doomy passages, too. If you like bestial black metal with some thrash metal & punk influences, this album is just for you.
I've always been concerned with middle and eastern Europe's gloomy and mysterious myths. We cannot expect a different kind of music from a region whose literature and movies are hand in glove with occultism and satanism. Influenced mostly by bands like Motörhead, Venom, Exciter and Kill'em All era Metallica, Evil Blood was formed in 1982 before Crotia's departure from Yugoslavia and it's the first thrash metal of both Yugoslavia and today's Crotia. This demo, Midnight in Sodom, was recorded in 1984 but wasn't able to be released until 1989. Now we have a recording that is too extreme for its era especially in terms of lyrics.

Evil Blood takes its power from Venom and its darkness & evil sound from Mercyful Fate. Broadly, the sound is a combination of rough speed metal and primitive, evil thrash metal. The production is lo-fi, but it makes the record sound more diabolic. The vocals are not so powerful, the vocalist has not that power anyhow but he stresses just in time and has an demonic vocal style. The guitar sounds are creaking, shrill and you sometimes hear dark blues solos reminding Black Sabbath. Composition and melodies are really depressive, hellish and satanic. In brief, with its low production and gloomy atmosphere, this demo is a real cult.
Rudimentary Peni is one of the weirdest bands ever. You can't categorize them, it sounds like an anarcho-punk but it's not utterly. In spite of their political lyrics, it's more appropriate to label them as a deathrock band. Most of the lyrics in the album are about death, darkness, despair and suicide. And the cover art is Nick Blinko's own drawing.

There are influences of British punk, especially Crass but you can also smell an intense gothic atmosphere. There is not a single happy moment in this 21-song album; no hopeful lyrics, no cheerful melodies. The bass guitar was used as the leading instrument in most of the songs and they are so chaotic and gloomy. The rhythm is rarely changing, every song is played in depressing minor keys. The songs' lenght are 1.5 minutes in average. Blinko's vocals sounds like he's a man in a mental hospial. Actually, Nick Blinko was in there once. It probably influenced somberness of the album. This is one of the darkest, most desperate, disturbing records of all the punk history, and a true cult.
Album Reviews: THE VARUKERS - ANOTHER RELIGION, ANOTHER WAR (1984)
What you should expect from a d-beat/hardcore punk band is obvious. It offers you lots of aggressiveness, raw music, and the bitter truth with sometimes sarcastic, sometimes critical, sometimes angry attitude. In this case The Varukers is a real hardcore punk band, in fact a real legend. They tell that truth with critical manner in this record. They shout the reasons –the most efficient one is religion- and the consequences of war furiously. There are harsh, raw and pissed off punk vocals, filthy, primitive and fast guitars, d-beat punk drumming and hard bass lines. There are also influences of Motörhead and Discharge, especially on solos and drumms. It may be the most brutal and characteristic album of The Varukers. Actually, the title and the cover says it all. Religion is bullshit, it only brings shit.
I wrote 3 or 4 different sentences to start writing about Weekend Nachos but I couldn't find anything proper, maybe because of the name haha. These guys are fucking mad! They progress on every record and Worthless is probably their masterpiece. Their style and sound is distinctive compared to most of the other powerviolence bands. You can hear influences of youth crew, death metal acts like Entombed, late-Carcass and sludge like Eyehategod besides of classic powerviolence and grindcore. And this album is a fascinating combination of all these genres. It sounds innovative yet old school.

Although there is an intense sludge influence, there are no longstanding songs except the 7-minute last track, "Future". The rest of the record is pounding with with a sledgehammer. The excessive rage of the album may make you punch someone you hate in the face. About the sound, the guitars have the thick sound of Entombed and Carcass while vocals and drums sound more grindcore-influenced. You can sometimes hear some rock'n'roll/punk solos like Motörhead and Discharge. The first song "Hometown Hero" is an exact example for this. My favourite song in the album is "Old Friend's Don't Mean Shit" owing to the lyrics and drilling fast music but the whole album is a favourite anyway. It is stimulating.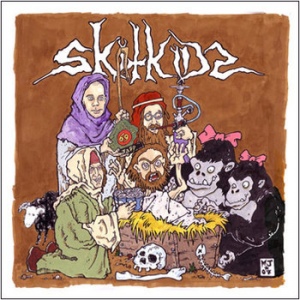 I guess the Marshal (Lemmy) tasted his Jack Daniels as daily, and he took his crew and said that "come on guys we're recording a Crust album!" however he included Poffen (Totalitar) for vocals, and they entered the studio suddenly. You can think what this guy tell us. But the extremely rock'n'roll/crust dose of Skitkids causes I think that. With the plenty of adrenalin and hatred, you'll be offered by a razor-sharp, fast, loud, funny record which is the combination of rock and roll, crustcore d-beat, thrash metal these guys performed. The vocals are reminiscent of Swedish hardcore legends Totalitar with old-styled angry screams and screeches. Great toned drum makes d-beat assault, it has powerful sound, the bass is groaning, melodic rock'n'roll leads and Fast Eddie-like guitar solos cause to lose yourself. The lyrics are based to socio-political issues with sarcastic expressions, the routine life of society, banal ideas, or criticize the punk stars of today. Classic Swedish D-Beat/Hardcore 's rock'n'roll excellence is in your blood with a high dose. Motorhead, AC DC structured rock'n'roll solos in "Weekday Suger Rov" (like listening to Ace Of Spades) is cool, and tracks such as "Viist E Jag Lycklig", "Svinahunden" bomb you with Totalitar d-beats. Skitkids makes noise for you, this is one of the best crust/rock 'n'roll records in recent years.
The infernal fog covered over the cemeteries. The ceremonies of blasphemy began and the unholy bodies prepare to revive and blow a cold kiss of hell. The place is the city of New Jersey where Misfits started to show the horror face of punk by the inspiration of zombies from the cemeteries of New Jersey, now Disma of the same region show the ancient death metal's punch and crawling that was inherited from the early 90s. First full-length is like taking breath the exhaust gas of the sevenfold lower of hell into your veins while your brain is being eaten by the graveworms cause of Disma's creepy low-tuned guitars, crusher and sweeper vocals, generally ominous sound that chokes your ears. You'll really be lost in the burial fog or, you'll really live the chaos apparition like they said. Of course, such a stuff shouldn't be surprise, because in the work of genius, Craig Pillard (ex-Incantation, Evoken) is there. The album completely changes between slower tempo and sometimes fast-paced destruction, it's unbelievably heavy and darkened, chaos dominates you in every sections. The riff oriented tracks have the damned chaos, the guitarists Venner and Kahan deliver the riffs of the deep hell in the name of darkest death metal, and Craig Pillard's profound growls depress you like a nightmare. Their variety approach in the songwriting perfectly complete all the madness.