Menü
Üyelik
---
Ziyaretçiler
01: 123.126.1 xxx
02: 51.255.65 xxx
03: 217.182.1 xxx
04: 157.55.39 xxx
05: 164.132.1 xxx
06: 51.255.65 xxx
07: 54.224.10 xxx
08: 217.182.1 xxx
09: 85.204.23 xxx
10: 164.132.1 xxx
11: 164.132.1 xxx
12: 104.237.2 xxx
13: 157.55.39 xxx
14: 51.255.65 xxx
15: 183.240.8 xxx
16: 23.88.140 xxx
17: 217.182.1 xxx
18: 51.255.65 xxx
19: 217.182.1 xxx
20: 164.132.1 xxx
21: 51.255.65 xxx
22: 209.90.22 xxx
23: 51.255.65 xxx
24: 164.132.1 xxx
25: 51.255.65 xxx
26: 51.255.65 xxx
27: 51.255.65 xxx
28: 146.185.2 xxx
29: 107.158.2 xxx
30: 164.132.1 xxx
31: 95.108.18 xxx
32: 104.160.2 xxx
33: 23.82.106 xxx
34: 164.132.1 xxx
35: 167.114.8 xxx
36: 186.68.93 xxx
37: 155.133.4 xxx
38: 149.56.43 xxx
39: 180.76.15 xxx
40: 217.182.1 xxx
41: 51.255.71 xxx
42: 128.199.2 xxx
43: 51.255.71 xxx
44: 46.166.17 xxx
45: 45.58.117 xxx
46: 51.255.65 xxx
47: 164.132.1 xxx
48: 68.180.22 xxx
49: 104.144.1 xxx
50: 217.182.1 xxx
51: 164.132.1 xxx
52: 75.101.16 xxx
53: 188.163.7 xxx
54: 51.255.65 xxx
55: 51.255.65 xxx
56: 217.182.1 xxx
57: 164.132.1 xxx
58: 66.249.76 xxx
59: 51.255.65 xxx
60: 51.255.65 xxx
61: 51.255.65 xxx
62: 176.31.23 xxx
63: 89.42.144 xxx
64: 164.132.1 xxx
65: 51.255.71 xxx
66: 217.182.1 xxx
67: 178.154.1 xxx
68: 217.182.1 xxx
69: 51.255.65 xxx
70: 217.182.1 xxx
71: 119.23.12 xxx
72: 217.182.1 xxx
73: 199.115.2 xxx
74: 51.255.65 xxx
75: 37.9.113. xxx
76: 131.253.2 xxx
77: 51.255.65 xxx
78: 164.132.1 xxx
79: 217.182.1 xxx
80: 37.9.113. xxx
81: 107.172.6 xxx
82: 217.182.1 xxx
83: 37.9.113. xxx
84: 217.182.1 xxx
85: 37.9.113. xxx
86: 151.80.27 xxx
87: 51.255.65 xxx
88: 186.27.12 xxx
89: 51.255.71 xxx
90: 111.74.21 xxx
91: 37.9.113. xxx
92: 213.180.2 xxx
93: 51.255.65 xxx
94: 37.9.113. xxx
95: 164.132.1 xxx
96: 178.154.1 xxx
97: 178.154.1 xxx
98: 213.180.2 xxx
99: 51.255.65 xxx
100: 46.118.15 xxx
101: 51.255.65 xxx
102: 5.45.207. xxx
103: 51.255.65 xxx
104: 217.182.1 xxx
105: 217.182.1 xxx
106: 23.105.15 xxx
107: 51.255.65 xxx
108: 94.121.40 xxx
109: 178.154.1 xxx
110: 217.182.1 xxx
111: 178.154.1 xxx
112: 51.255.65 xxx
113: 164.132.1 xxx
114: 23.95.97. xxx
115: 45.72.74. xxx
116: 5.45.207. xxx
117: 23.106.20 xxx
118: 164.132.1 xxx
119: 54.221.13 xxx
120: 37.9.113. xxx
121: 164.132.1 xxx

Album Reviews: GRAVE RITUAL – EUPHORIC HYMNS FROM THE ALTAR OF DEATH (2010)
Grave Ritual is an Old School Death metal band formed in 2009 in USA and one of my favourites among the new Old School Death Metal bands. They were formerly known as Meathole Infection and released some demos with that name. As Grave Ritual, this is their first and lone LP. They play desecrating and unholy Death Metal in the vein of early Autopsy, Incantation, Grave, Asphyx and some Beherit. In some parts the music slows down and and down-tuned guitars creates a cemeterial atmosphere. The riffs are primitive and catchy while the vocals are growling and roarsing. There are also short but touchy solos. A great record.
Talking about the legendary devils of Sweden, you can think why they don't do any new record since the 2007's "Envoy Of Lucifer" but it's well-known of Nifelheim is not a productive band. They've active about 20 years and if we want to point the most important band in the name of black/speed metal after the 90s, this is Nifelheim of course. Released in 1997, "Devil's Force" is most powerful record of the band to me. In the way of speed/thrash/black metal their roots are based to 80's cult thrash metal era and black metal's pure blasphemy and hatred that was dedicated to satan so it's a blending unholy sound that was made in hell. We need to note that you know the album includes Dissection's Jon Nödtveidt (R.I.P.) and Jon Zwetsloot on guitars as the guests.
From the unholy cemeteries of Kopenhag, this choking and frowzy necro death metal sound was created to uncover the horrific buzzings from the deepest hell and the cursed ceremonies of the living deads without giving no chance to any shitty sweet melodies and softcore assholes. With the leading of David Mikkelsen (aka Torturdöd) Undergang plays true old school death metal in the veins of bands such as Autopsy, Incantation, Grave, Bolt Thrower, Funebrarum and other creepy sounds you hoped. Their debut "Indhentet Af Doden" has already created evil spirited hallunications in my mind, so this crushing madness completed it now. This time they present more steamy sound that's based on buzzsaw guitar riffing, drumming of doomy beats, and brutality of deepest evil growls so with another definition they descend like a mass of damned fog. David Torturdöd is one of the hellish vocalists I've ever seen, so his grinding torment grunts and obscene screams are enough to embrace you from everywhere. Changing of tempos are great like fucking fast-paced parts to slowy doom atmosphere and sometimes there's possible to hear more diseased sounds behind the guitars. David's vomitting screams arrives the top of malignancy. Every riff dominates you separately so they don't give a fuck more complex music cause of their approach that's based on produce the devil's noises. This LP is 45-minutes feast of old school evil death metal, of course, the record's label was not a surprise case for us cause of being the label of graveyards Me Saco Un Ojo records. I recommend the following this band as a die-hard fan.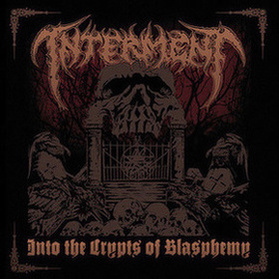 Gathering of the members who play in bands such as Demonical, Centinex, Regurgitate could have been this kind of sledgehammer Swedish death metal. Completely dark, morbid and hearing sound which erode the evil, Interment appeared with first full-length "Into The Crypts Of Blasphemy". In fact, it's not surprising the band's loyal to the roots of the Swedish death metal in a different perspective, because they were "Beyond" in 1988. Bastard Priest, Miasmal and many others continue to create an earthquake in the underground scene with their cold, and dark hellish sounds in the north of Europe, they have been joined by Interment.

From the beginning to the end tracks include buzzing of the guitar tones, based on the deadly chaotic and destructive structured parts, sinister manner of vocals, fierce attacks of drums, simple but attractive tremolo riffs will absorb your brain i encourage you to witness this superb record of Interment. Taking us to early 90s, it provides to inhale the air of Entombed, Grave, Carnage, Dismember did at the time. Where these guys have been for 22 years? I don't know. Though not their first record, only the first full-length.
Now we will mention a band that changed the name. Those who follow this kind of underground black-death metal scene they know very well who they are now! "Void Meditation Cult".

Sperm Of Antichrist was founded in 2009 in Ohio. When Ohio city and the term "metal" was combined they always remind me Necrophagia that's one of my favourite metal bands. When we discuss their sound it's very similar to Von and Beherit style. Generally, the songs are almost slow tempo structured by doomy death metal riffs, evil wild vocals whispering vocal contributions of the mentally ill, together scattered parts of cold rather morbid effects hell, the result is dark hell atmosphere. In some guitar parts it's also very reminiscent of Beherit. So "Drawing Down the Moon" definition by Hells Headbangers is becoming very well. They released their first demo tape through Hells Headbangers in the last days of 2009. Sound is much better with a re-releasing of tape in the summer of 2010.

Follow Void Meditation Cult...
Some posers who always think the Norway is only consisting of black metal scene however they also think it's cool completely then I advice them jumping from a brigde they firstly saw. From the past till today the kicking ass bands of Norway such as Nocturnal Breed, Infernö, Desekrator, Aura Noir and Deathhammer has done unholy and speeding up alcoholic thrash/black uproar enough to cause you want to drink some beer with satan on the same table, in fact the Norwegian thrash scene can't never be forgotten. Fastest thrash metal with light-speed riffs were combined with the style's usual dirty drunk vocals, I wonder how many bottles he drank before the recording. Their attitude is also some of punky, especially the vocals and the influences can be pointed as Tankard, Slayer, DRI, Exciter, Razor and some others. When the retro-thrash was out of nowhere yet, Infernö and a few bands were already playing that.

"Downtown Hades" is more mature than previous record as musically although they play with unconcerned approach. Your brain will be fuckin' crazy track by track with insanely fast tempo, amazing guitar work that is oriented on speed, screaming guitar solos and the ripper screams of vocalist. Energetic structure of the album creates more party mood to enjoy, however the names of the first trio are so interesting ("Straight From Hell", "Utter Hell", "Rot In Hell") and generally primitive that is available for such a band of madness ike Infernö. I think the band can not enter the studio to drink for 14 years so they can't record a new album which we waited.
The first death metal bands you listened in the age of constent could be Obituary, Death, Deicide, Cannibal Corpse or something like these. But when I did not know these major acts I heard these guys, and one of the first anti-religious albums of I was faced in my life so even the satanic intro which includes morbid baby, woman cryings and screams was enough to terrify me. Formed in 1988, this is old school death metal band from Slovakia, I guess Dementor is most important act in the genre of this country. The band plays typical 90's brutal death metal with their satanic imagery and anti-christ lyrics. It's possible to hear many memorable solid riffs, catchy structure in the riffing often is best remarkable side of the album in my opinion, it's really variety. Drumming is also awesome, Jozef Piros did a very good performance in entire album. His metronome is very solid, and another great thing is about the trigger that was not used on drums. Doomy parts if you want to hear, you will be also satisfied in this direction. As I knew they were influenced from Venom, Slayer, Possessed, Kreator, Celtic Frost in the early times as it should be. "Kill The Thought On Christ" is definitely one of the best products of blasphemic death metal in the 90s, i believe people who like Sinister, Immolation etc. they easily like Dementor.
When the devil's terrible hummings occured from the abysmal unsighted depths of hell in Rotterdam in 1991, in fact one of the top bands has spawned the unholy winds of blasphemous was going to appear. Their stringent ideological representatives are oriented on spreading the satanic terror through the earth without any fake ideas, and always managing to protect the sacrilegious spirit of real underground in the name of True Black metal. Recorded in the following year, the first demo was not presented to the fans except for underground magazines and record labels. In 1993, the 5-track demo named "La Majeste Infernable", and another one two-track demo and live recordings were released under the name "Resurrection" through Polish label Pagan Records in 1994. After the joining of Insinah Xul they shared the stage with Vader and Kat in the Polish festival named Sthrashydto 94. Following the festival they entered the studio for the 6-track outrage, so two of them released as the EP "Thy Eternal Flame", and the rest of tracks were included in the split with Japanese black-thrash band Abigail that was released by Warmaster Records. In these periods, Funeral Winds was quite early band yet, the limits they played was not beyond the mediocre raw black metal of course.

Normally they completed the debut in the summer of 1995, but there would be too many problems such as the murder arrest of Hell Christ Xul (Maurits Jansen) cause of attempting to kill the bass player of Dutch death metal band Sinister. Later it's well-known in an interview of Archaic-Magazine.com, Hell Christ Xul says like that "He should thank me for the experience of intimacy to know how he could lose his life at the top his career" so he meaned he was wrong guy to trade for black metal so he was deserving to die.
Italian old-school black/ thrash band was founded in 2002 in Sardinia. Emerged from the ashes of a black metal cover band named Frozen Darkness, they were formed to declare the war of hell against the religions by the worshipping to 80's/early 90's depraved evil metal sound. Including 2 covers (one of Venom - Black Metal, and the other Tormentor - Tormentor) 8-track demo "In Nomine Deus Quad Ecelesias Igne Absumor" was recorded the same year. While the preparation was being made for the compositions of new tracks, in the meantime a new name NekroFelyam (bass) joined the band. In 2004, the first full-length "...Instar Gladii in Corporem Christi"came out, and they put us in hell with raw black-thrash blasphemy. Later, the two members Necrofelyam and Necrowinter's leaving caused to negative impact about working on new stuff. However Necromaniac has only waited for 2 years and suddenly returned together with the new members to invert the cross again. Immediately after that, the 3-song promo "Goatwar Promo 666" was released and the second blasphemous desecration attack "Antiklerical Terroristik Death Squad" came out. Sound was more oriented on a mixing of black, thrash metal and some punk and even rock'n'roll touches under the influence of Sodom, Impaled Nazarene, Venom, Motörhead, Discharge, and Hellhammer. It was delivering the variety of compositions between black metal and rock and roll with raspy black-thrash vocals, crunchy sound of guitars, riffing of catchy as fuck, hell-screaming guitar solos and puncher beats in drumming. Let's shout like that "In The Name Of God Let The Churches Burn"… or "Vatican Burning", in fact all religions must be burned! Today I think Necromessiah is the greatest newcomer (post-2000) black-thrash band in Italy.
Morboso metal rulez! With evil, blasphemic and unholy violation of the rules meets the music these Californian and Mexican satanic mentally ill guys of primitive black-death metal under the name Morbosidad they reveal records like sledgehammer. One of the bands who carries the second-wave of old school black metal flag after the masters such as Von, Sarcofago, Beherit and Blasphemy, they vomit ruthless hate with brutal blasphemic black/death metal attack in maximum adrenaline. Likewise Beherit this time they reflected more cult Brazilian death/black metal influences of Sarcofago, Sextrash worship, so a Sarcofago classic "Deathrash" cover is between the tracks in album they performed.

Under the leadership of Tomas Stench the album was recorded with new members in Mexico, like the previous studio albums this has also 13 tracks, and not reach the time of 3 minutes.. Are not foreign to Spanish lyrics, cover art is the presence of Chris Moyen who has the concept of disease combined with Morbosidad ideology; shows jesus christ is being crushed by the foots of the emperor of satanic army was imaged intensely. Even see the cover of the music to tell the terrible fate-sufficient. Primitive brutality, aggression and ruled by their very nature they do worship satan just like forefather bands to dedicate themselves to live the atmosphere of inevitable hell!

Barbaric riffs, drums of beating rhythms and evil vocals of strangling to unending dark delivers extremely filthy and that sentiment comes from the depths of hell the record has well-structured guitar solos are perfect to keep you, the head breaks anymore... Some stand out in some of the typical evil thrash riffs from Blasphemy we know that deep buzzing guitars, and the confusion of war to experience the pleasure of the atmosphere, Stench s growlings, death metal roarings insisted a balance between chaos, hatred spreads.