Menü
Üyelik
---
Ziyaretçiler
01: 113.92.19 xxx
02: 221.202.1 xxx
03: 54.36.148 xxx
04: 60.11.158 xxx
05: 113.206.9 xxx
06: 219.135.1 xxx
07: 123.52.70 xxx
08: 110.53.23 xxx
09: 189.206.1 xxx
10: 119.77.22 xxx
11: 111.198.6 xxx
12: 113.86.17 xxx
13: 110.245.1 xxx
14: 125.86.17 xxx
15: 111.175.2 xxx
16: 221.196.2 xxx
17: 180.115.2 xxx
18: 36.79.128 xxx
19: 219.133.1 xxx
20: 54.36.148 xxx
21: 54.36.148 xxx
22: 171.13.11 xxx
23: 46.229.16 xxx
24: 107.170.1 xxx
25: 112.16.17 xxx
26: 112.99.17 xxx
27: 83.64.253 xxx
28: 42.229.40 xxx
29: 60.13.132 xxx
30: 61.167.22 xxx
31: 120.193.2 xxx
32: 54.36.148 xxx
33: 54.36.148 xxx
34: 114.226.1 xxx
35: 58.16.168 xxx
36: 46.229.16 xxx
37: 54.36.148 xxx
38: 54.36.148 xxx
39: 51.255.71 xxx
40: 175.10.24 xxx
41: 222.170.8 xxx
42: 119.96.20 xxx
43: 223.72.91 xxx
44: 112.255.1 xxx
45: 114.229.2 xxx
46: 46.229.16 xxx
47: 54.36.148 xxx
48: 61.52.130 xxx
49: 119.114.9 xxx
50: 119.144.1 xxx
51: 219.155.1 xxx
52: 1.202.108 xxx
53: 119.54.60 xxx
54: 183.68.18 xxx
55: 144.12.15 xxx
56: 222.214.2 xxx
57: 110.52.15 xxx
58: 46.229.16 xxx
59: 207.46.13 xxx
60: 59.32.94. xxx
61: 46.229.16 xxx
62: 111.193.1 xxx
63: 51.255.71 xxx
64: 171.81.17 xxx
65: 122.118.2 xxx
66: 113.81.23 xxx
67: 180.162.1 xxx
68: 121.227.5 xxx
69: 207.46.13 xxx
70: 119.50.28 xxx
71: 54.36.149 xxx
72: 54.36.148 xxx
73: 54.36.148 xxx
74: 54.36.149 xxx
75: 125.85.20 xxx
76: 54.36.148 xxx
77: 60.222.22 xxx
78: 46.229.16 xxx
79: 121.57.15 xxx
80: 219.135.1 xxx
81: 54.36.148 xxx
82: 223.255.1 xxx
83: 113.116.1 xxx
84: 36.49.151 xxx
85: 119.163.9 xxx
86: 42.84.182 xxx
87: 183.196.1 xxx
88: 46.229.16 xxx
89: 117.81.17 xxx
90: 1.188.66. xxx
91: 112.26.5. xxx
92: 46.229.16 xxx
93: 58.220.24 xxx
94: 222.129.4 xxx
95: 171.8.254 xxx
96: 14.135.17 xxx
97: 27.192.23 xxx
98: 54.36.148 xxx
99: 175.23.19 xxx
100: 219.138.2 xxx
101: 121.5.23. xxx
102: 60.3.148. xxx
103: 203.100.8 xxx
104: 27.216.16 xxx
105: 119.98.19 xxx
106: 42.148.98 xxx
107: 218.98.53 xxx
108: 182.139.1 xxx
109: 113.4.223 xxx
110: 118.123.4 xxx
111: 59.46.158 xxx
112: 134.119.2 xxx
113: 66.249.64 xxx
114: 110.245.1 xxx
115: 120.192.1 xxx
116: 122.189.1 xxx
117: 54.36.149 xxx
118: 180.140.6 xxx
119: 122.136.7 xxx
120: 116.117.3 xxx
121: 36.63.223 xxx
122: 110.17.2. xxx
123: 222.209.1 xxx
124: 175.8.65. xxx
125: 114.249.2 xxx
126: 117.22.91 xxx
127: 111.40.11 xxx
128: 61.137.13 xxx
129: 180.169.5 xxx
130: 66.249.70 xxx
131: 46.229.16 xxx
132: 54.36.148 xxx
133: 106.18.78 xxx
134: 221.146.1 xxx
135: 196.245.2 xxx
136: 198.55.11 xxx
137: 23.94.213 xxx
138: 104.144.1 xxx
139: 113.72.9. xxx
140: 14.104.86 xxx
141: 142.44.13 xxx
142: 118.123.3 xxx
143: 175.149.3 xxx
144: 54.36.148 xxx
145: 117.157.6 xxx
146: 116.25.14 xxx
147: 221.4.169 xxx
148: 54.36.149 xxx
149: 110.80.16 xxx
150: 221.209.1 xxx
151: 54.36.149 xxx
152: 54.36.148 xxx
153: 54.36.149 xxx
154: 54.36.148 xxx
155: 54.36.148 xxx
156: 45.61.189 xxx
157: 223.255.1 xxx
158: 114.248.1 xxx
159: 54.36.148 xxx
160: 218.4.214 xxx
161: 115.239.2 xxx
162: 138.128.1 xxx
163: 1.80.71.6 xxx
164: 183.215.7 xxx
165: 218.77.80 xxx
166: 113.218.1 xxx
167: 183.15.17 xxx
168: 46.229.16 xxx
169: 110.87.23 xxx
170: 111.201.1 xxx
171: 119.131.6 xxx
172: 218.1.126 xxx
173: 62.210.18 xxx
174: 54.36.148 xxx
175: 42.177.36 xxx
176: 111.85.7. xxx
177: 118.254.1 xxx
178: 222.237.1 xxx
179: 54.36.149 xxx
180: 140.206.1 xxx
181: 54.36.148 xxx
182: 59.36.21. xxx
183: 118.254.2 xxx
184: 54.36.149 xxx
185: 54.36.148 xxx
186: 59.48.18. xxx
187: 171.90.22 xxx
188: 60.173.13 xxx
189: 116.24.67 xxx
190: 46.229.16 xxx
191: 180.213.2 xxx
192: 54.36.149 xxx
193: 54.36.148 xxx
194: 54.36.149 xxx
195: 116.54.10 xxx
196: 111.47.50 xxx
197: 218.201.1 xxx
198: 51.255.71 xxx
199: 46.229.16 xxx
200: 125.211.7 xxx
201: 46.229.16 xxx
202: 171.120.1 xxx
203: 171.8.254 xxx
204: 114.240.1 xxx
205: 124.42.23 xxx
206: 42.84.159 xxx
207: 182.247.2 xxx
208: 58.244.14 xxx
209: 113.71.23 xxx
210: 124.67.25 xxx
211: 117.40.15 xxx
212: 157.55.39 xxx
213: 218.93.16 xxx
214: 54.36.148 xxx
215: 54.36.148 xxx
216: 14.106.24 xxx
217: 207.46.13 xxx
218: 54.36.148 xxx
219: 27.185.10 xxx
220: 1.192.219 xxx
221: 51.255.71 xxx
222: 113.72.8. xxx
223: 183.15.17 xxx
224: 182.99.14 xxx
225: 54.36.148 xxx
226: 123.191.1 xxx
227: 58.16.122 xxx
228: 117.32.15 xxx
229: 54.36.148 xxx
230: 112.112.2 xxx
231: 117.85.87 xxx
232: 60.13.214 xxx
233: 222.80.15 xxx
234: 42.92.129 xxx
235: 123.184.8 xxx
236: 27.193.15 xxx
237: 101.17.34 xxx
238: 60.208.17 xxx
239: 54.36.149 xxx
240: 222.37.36 xxx
241: 112.250.2 xxx
242: 54.36.149 xxx
243: 119.251.2 xxx
244: 54.36.149 xxx
245: 122.157.1 xxx
246: 218.4.235 xxx
247: 219.137.2 xxx
248: 27.222.24 xxx
249: 117.9.146 xxx
250: 117.135.2 xxx
251: 139.212.1 xxx
252: 66.249.70 xxx
253: 171.118.5 xxx
254: 54.36.149 xxx
255: 36.158.33 xxx
256: 112.28.10 xxx
257: 218.71.16 xxx
258: 54.36.148 xxx
259: 54.36.149 xxx
260: 117.25.21 xxx
261: 58.21.36. xxx
262: 115.192.2 xxx
263: 60.17.164 xxx
264: 180.122.2 xxx
265: 54.36.148 xxx
266: 54.36.148 xxx
267: 106.40.67 xxx
268: 119.119.7 xxx
269: 218.90.14 xxx
270: 61.181.14 xxx
271: 54.36.148 xxx
272: 222.211.1 xxx
273: 113.226.4 xxx
274: 202.98.20 xxx
275: 222.92.18 xxx
276: 182.253.1 xxx
277: 1.49.2.5 xxx
278: 124.74.11 xxx
279: 183.224.1 xxx
280: 144.12.6. xxx
281: 116.231.7 xxx
282: 27.21.75. xxx
283: 202.98.20 xxx
284: 117.135.2 xxx
285: 54.36.148 xxx
286: 54.36.148 xxx
287: 54.36.148 xxx
288: 119.101.2 xxx
289: 147.135.2 xxx
290: 54.36.148 xxx
291: 54.36.149 xxx
292: 171.118.1 xxx
293: 46.229.16 xxx
294: 54.36.149 xxx
295: 66.249.70 xxx
296: 54.36.148 xxx
297: 51.255.71 xxx
298: 155.94.19 xxx
299: 221.201.1 xxx
300: 111.194.2 xxx
301: 223.104.9 xxx
302: 196.247.1 xxx
303: 218.85.18 xxx
304: 123.55.1. xxx
305: 54.36.148 xxx
306: 222.93.16 xxx
307: 114.93.18 xxx
308: 119.100.4 xxx
309: 59.42.28. xxx
310: 60.160.24 xxx
311: 54.36.148 xxx
312: 116.252.1 xxx
313: 113.246.1 xxx
314: 54.36.148 xxx
315: 54.36.148 xxx
316: 54.36.148 xxx
317: 54.36.149 xxx
318: 59.5.101. xxx
319: 54.36.149 xxx
320: 54.36.149 xxx
321: 111.193.7 xxx
322: 54.36.149 xxx
323: 46.229.16 xxx
324: 14.213.15 xxx
325: 107.152.1 xxx
326: 222.220.1 xxx
327: 46.229.16 xxx
328: 171.8.171 xxx
329: 117.85.49 xxx
330: 112.115.1 xxx
331: 110.52.9. xxx
332: 54.36.148 xxx
333: 1.202.22. xxx
334: 222.107.7 xxx
335: 175.171.1 xxx
336: 54.36.148 xxx
337: 113.4.203 xxx
338: 1.204.65. xxx
339: 112.250.1 xxx
340: 182.109.1 xxx
341: 114.241.1 xxx
342: 54.36.148 xxx
343: 59.39.183 xxx
344: 125.93.83 xxx
345: 220.166.1 xxx
346: 45.58.117 xxx
347: 171.113.7 xxx
348: 54.82.57. xxx
349: 113.246.8 xxx
350: 114.243.2 xxx

The infernal fog covered over the cemeteries. The ceremonies of blasphemy began and the unholy bodies prepare to revive and blow a cold kiss of hell. The place is the city of New Jersey where Misfits started to show the horror face of punk by the inspiration of zombies from the cemeteries of New Jersey, now Disma of the same region show the ancient death metal's punch and crawling that was inherited from the early 90s. First full-length is like taking breath the exhaust gas of the sevenfold lower of hell into your veins while your brain is being eaten by the graveworms cause of Disma's creepy low-tuned guitars, crusher and sweeper vocals, generally ominous sound that chokes your ears. You'll really be lost in the burial fog or, you'll really live the chaos apparition like they said. Of course, such a stuff shouldn't be surprise, because in the work of genius, Craig Pillard (ex-Incantation, Evoken) is there. The album completely changes between slower tempo and sometimes fast-paced destruction, it's unbelievably heavy and darkened, chaos dominates you in every sections. The riff oriented tracks have the damned chaos, the guitarists Venner and Kahan deliver the riffs of the deep hell in the name of darkest death metal, and Craig Pillard's profound growls depress you like a nightmare. Their variety approach in the songwriting perfectly complete all the madness.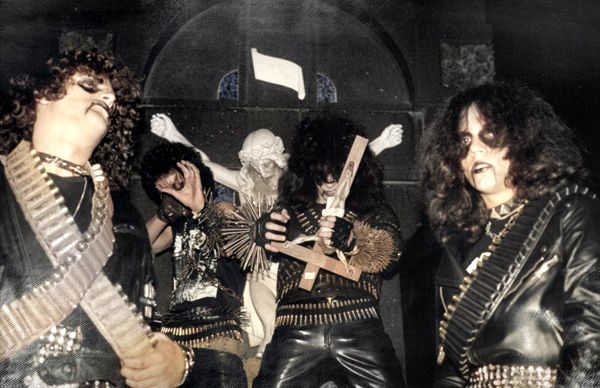 Like to describe them as "Brazilian Sodom" everytime, although the academician guy Wagner does not want to remember the old days anymore. Yeah, I think most of the people have heard Kaos Kommando in the style of cult Finnish hardcore punk like Terveet Kadet, if you remember the live bootleg "Nights In Hell" then you will know they were covering two Terveet kadet songs.

There were the marks of first true desecration with the forming of Sarcofago and Sepultura in South America, so the barbaric devil-worshipping metal began to fill the veins with hellish poison then we can tell the bastard youth of today that they have a great sign on almost many extreme metal bands nowadays. Especially bestial metal bands such as Von, Beherit, Blasphemy showed them as key influence on their music.

Sarcofago was founded in 1985 in Belo-Horizonte under the flag of satanism, perversion, sex, alcoholism, and especially anti-Christianity that have the biggest influences to create their ideas to write lyrics, and the music in the early demos "Satanic Lust", "The Black Vomit", "Christ's Death" so the underground metal scene would meet with a band that had the brutal devil metal rules in the future!!! Hell metal acts of the era such as Venom, Hellhammer, Celtic Frost, Sodom, Destruction, Possessed, Bathory were the key influences, after the agreement with Cogumelo Records, the debut full-length "INRI" (1987) was made to dedicate the brutal spirit of Satan, and desecrated all the divinities. Devilish and dark atmosphere, pure growls and screams, muffled sound effects, simplistic and accursed primitive speedy-black metal riffs that were possessed by devil and close to the German Thrash metal witching emerged a primitive black metal album that has done a menacing rise.
Properly if the record compaines supported them with more attentive face then this band would be better than their current point. Razor always kept the real spirit in thrash metal, they have always played pure thrash to crack your head. Formed in 1983 in the city of Ontario by Dave Carlo (guitar), Stack "sheep dog" McLaren (vocals), Mike Campagnolo (bass) and Mike "M-Bro" Embro (drums), they have inspired many bands in Thrash and more extreme metal scenes. Influenced from Motörhead, Slayer, Venom, Judas Priest, Exciter and the others, they have eight albums in their discography, but although they did such plentiful records, their value has been known more with retro-thrash explosion in recent years.

After they were formed, the 2 demos appeared and "Armed And Dangerous" EP was recorded and released limited to 1200 copies. But they would need a reliable record company so they signed with Canada's Attic Records, and three consecutive full-lengths "Executioner's Song" (1985), "Evil Invaders" (1985), "Malicious Intent" (1986) were released through same company. The first album, "Executioner's Song" provide to prove themselves with the aggressive style, this made to gain a brand-new fan base. "Evil Invaders" was more brutal by Stace McLaren's increasingly high-pitched vocals and screams and guitarist Dave McLaren's razor-sharp riffs which volley the listeners, it was the more attack-oriented album. During this period, they toured with the bands like Motörhead, Venom, Slayer including Canada, U.S.A., they filmed a video clip for the title track, so it was one of the first Speed Metal clips in the world.
Album Reviews: SEA OF DEPRIVATION – CATHARSIS IN DISHARMONY (2000)
TOTAL HATE, TOTAL FURY!!! First of all, I won't write much about this record because if I do, Phil Hansford may come from hell and kill me. Yes, Sea of Deprivation is one of the most dangerous, angry and despiser bands ever. They were active from 1997 to 2000 and this is their only record. They played quite Dystopia-influenced crust/sluge/grindcore. Apart from Dystopia, there are influences of Carcass, Assück, Disrupt, ABC Diabolo and Nausea. While the song structures are changing between mid and fast tempo, brutal and screaming vocals are shared. There is a considerable sludge influence but I'd rather call it a grindcore record. The songs are full of hatred but you feel the suffering when you hear the screaming. The opening song "Hell Hath No Fury" is a furious song with crusty sludge riffs mostly going on mid-tempo. "Eco-Catastrophe", "Who's the Fucking Criminal", "The Cycle of Misery" are other outstanding songs of the album. My favourite is "You Fucking Jerk", a Dystopia-Disrupt-Carcass hybrid with brutal/scream vocals, Carcass-influenced guitar riffs, and beating blasts. The last song is "Domestic Prison", a Disrupt cover.

"NO, YOU'RE NO FRIEND OF MINE, JUST ANOTHER FUCK FACE I MUST DEAL WITH!!!"
Album Reviews: GRAVE RITUAL – EUPHORIC HYMNS FROM THE ALTAR OF DEATH (2010)
Grave Ritual is an Old School Death metal band formed in 2009 in USA and one of my favourites among the new Old School Death Metal bands. They were formerly known as Meathole Infection and released some demos with that name. As Grave Ritual, this is their first and lone LP. They play desecrating and unholy Death Metal in the vein of early Autopsy, Incantation, Grave, Asphyx and some Beherit. In some parts the music slows down and and down-tuned guitars creates a cemeterial atmosphere. The riffs are primitive and catchy while the vocals are growling and roarsing. There are also short but touchy solos. A great record.
Talking about the legendary devils of Sweden, you can think why they don't do any new record since the 2007's "Envoy Of Lucifer" but it's well-known of Nifelheim is not a productive band. They've active about 20 years and if we want to point the most important band in the name of black/speed metal after the 90s, this is Nifelheim of course. Released in 1997, "Devil's Force" is most powerful record of the band to me. In the way of speed/thrash/black metal their roots are based to 80's cult thrash metal era and black metal's pure blasphemy and hatred that was dedicated to satan so it's a blending unholy sound that was made in hell. We need to note that you know the album includes Dissection's Jon Nödtveidt (R.I.P.) and Jon Zwetsloot on guitars as the guests.
From the unholy cemeteries of Kopenhag, this choking and frowzy necro death metal sound was created to uncover the horrific buzzings from the deepest hell and the cursed ceremonies of the living deads without giving no chance to any shitty sweet melodies and softcore assholes. With the leading of David Mikkelsen (aka Torturdöd) Undergang plays true old school death metal in the veins of bands such as Autopsy, Incantation, Grave, Bolt Thrower, Funebrarum and other creepy sounds you hoped. Their debut "Indhentet Af Doden" has already created evil spirited hallunications in my mind, so this crushing madness completed it now. This time they present more steamy sound that's based on buzzsaw guitar riffing, drumming of doomy beats, and brutality of deepest evil growls so with another definition they descend like a mass of damned fog. David Torturdöd is one of the hellish vocalists I've ever seen, so his grinding torment grunts and obscene screams are enough to embrace you from everywhere. Changing of tempos are great like fucking fast-paced parts to slowy doom atmosphere and sometimes there's possible to hear more diseased sounds behind the guitars. David's vomitting screams arrives the top of malignancy. Every riff dominates you separately so they don't give a fuck more complex music cause of their approach that's based on produce the devil's noises. This LP is 45-minutes feast of old school evil death metal, of course, the record's label was not a surprise case for us cause of being the label of graveyards Me Saco Un Ojo records. I recommend the following this band as a die-hard fan.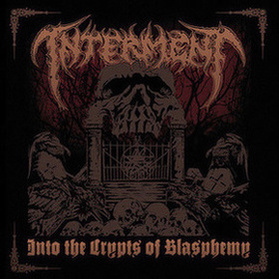 Gathering of the members who play in bands such as Demonical, Centinex, Regurgitate could have been this kind of sledgehammer Swedish death metal. Completely dark, morbid and hearing sound which erode the evil, Interment appeared with first full-length "Into The Crypts Of Blasphemy". In fact, it's not surprising the band's loyal to the roots of the Swedish death metal in a different perspective, because they were "Beyond" in 1988. Bastard Priest, Miasmal and many others continue to create an earthquake in the underground scene with their cold, and dark hellish sounds in the north of Europe, they have been joined by Interment.

From the beginning to the end tracks include buzzing of the guitar tones, based on the deadly chaotic and destructive structured parts, sinister manner of vocals, fierce attacks of drums, simple but attractive tremolo riffs will absorb your brain i encourage you to witness this superb record of Interment. Taking us to early 90s, it provides to inhale the air of Entombed, Grave, Carnage, Dismember did at the time. Where these guys have been for 22 years? I don't know. Though not their first record, only the first full-length.
Now we will mention a band that changed the name. Those who follow this kind of underground black-death metal scene they know very well who they are now! "Void Meditation Cult".

Sperm Of Antichrist was founded in 2009 in Ohio. When Ohio city and the term "metal" was combined they always remind me Necrophagia that's one of my favourite metal bands. When we discuss their sound it's very similar to Von and Beherit style. Generally, the songs are almost slow tempo structured by doomy death metal riffs, evil wild vocals whispering vocal contributions of the mentally ill, together scattered parts of cold rather morbid effects hell, the result is dark hell atmosphere. In some guitar parts it's also very reminiscent of Beherit. So "Drawing Down the Moon" definition by Hells Headbangers is becoming very well. They released their first demo tape through Hells Headbangers in the last days of 2009. Sound is much better with a re-releasing of tape in the summer of 2010.

Follow Void Meditation Cult...
Some posers who always think the Norway is only consisting of black metal scene however they also think it's cool completely then I advice them jumping from a brigde they firstly saw. From the past till today the kicking ass bands of Norway such as Nocturnal Breed, Infernö, Desekrator, Aura Noir and Deathhammer has done unholy and speeding up alcoholic thrash/black uproar enough to cause you want to drink some beer with satan on the same table, in fact the Norwegian thrash scene can't never be forgotten. Fastest thrash metal with light-speed riffs were combined with the style's usual dirty drunk vocals, I wonder how many bottles he drank before the recording. Their attitude is also some of punky, especially the vocals and the influences can be pointed as Tankard, Slayer, DRI, Exciter, Razor and some others. When the retro-thrash was out of nowhere yet, Infernö and a few bands were already playing that.

"Downtown Hades" is more mature than previous record as musically although they play with unconcerned approach. Your brain will be fuckin' crazy track by track with insanely fast tempo, amazing guitar work that is oriented on speed, screaming guitar solos and the ripper screams of vocalist. Energetic structure of the album creates more party mood to enjoy, however the names of the first trio are so interesting ("Straight From Hell", "Utter Hell", "Rot In Hell") and generally primitive that is available for such a band of madness ike Infernö. I think the band can not enter the studio to drink for 14 years so they can't record a new album which we waited.